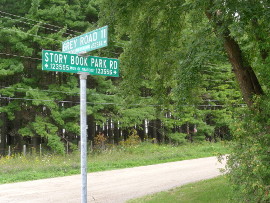 Councillor Steven Bartley is frustrated that two dozen property owners on Story Book Park Road, east of Grey Road 11, saw their tar and chip hard surface road pulverized and returned to gravel with little warning, and he wants to know what can be done to fix the situation that has angered residents of the road.
At the September 25 meeting of council, Bartley presented a motion directing staff to bring forward a 2018 budget enhancement report that would outline the options for the repair and resurfacing of the roughly two kilometre section of Story Book Park Road.
"I understand the roads preservation model, I understand how it works, but this is a little different," Bartley told council. "This road was hastily taken away from the residents, and changed without any sort of discussion or meetings. It was done hastily as far as I was concerned."
Residents of the section of Story Book Park Road were given little notice, just a few days, before crews arrived in July to pulverize the tar and chip surface of their road before adding some additional gravel, reducing what had already been a horribly pothole-filled road into a dusty, gravel-surfaced mess, according to residents of the road.
A delegation representing nearly two dozen property owners on Story Book Park Road made a presentation to Meaford council on August 28 to let council know that they are not happy with having their road pulverized.
"Ratepayers learned on July 12 in a note hand-delivered by two (municipal) employees to the 23 mailboxes on the road that pulverizing was to be carried out soon – an action completed three days later. At no time were we in any conversation or communication with the municipality about what was under consideration, what part of the road would be pulverized, the reasons for this, or if and when it was going to be done," Story Book Park Road resident Hugh Greenwood told council.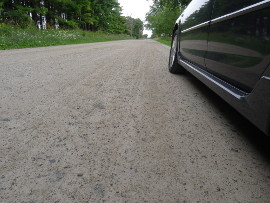 While the plan to pulverize their road may have been a surprise to residents, the decision had been made at least two months prior. In a memo dated May 8, 2017, from Meaford Treasurer and Director of Infrastructure Management Darcy Chapman, council was advised of the plan to pulverize the more than two kilometres of Story Book Park Road east of Grey Road 11.
"Staff have been cold patching sections of Sideroad 23, Storybook Park Road and Euphrasia-St. Vincent Town Line for a while now with no progress. These sections were never constructed properly before being topped with surface treatment material which has contributed to the failing condition," wrote Chapman in his May 8 memo. "Instead of allocating more man time and thousands of dollars towards cold patching, staff are of the opinion that grinding these sections of road would result in a more cost efficient way to maintain as a gravel surface. This would give the Municipality the flexibility needed until such time that a full reconstruct can be completed to adequately maintain these sections to the Minimum Maintenance Standards."
Chapman noted in his memo that the decision would likely displease residents, but he argued that the municipality was wasting money by constantly filling potholes on the poorly constructed road.
"Reducing the road surface to gravel may not please the residents that want the road surface treated (or paved). On average the Municipality allocates $12,000-$14,000 yearly just on cold patch, and countless man-hours on these road sections. For around $5,000 we can grind the road and add some granular to the base resulting in a more efficient road condition," said Chapman in his memo.
"How would this fit in the priorities of our State of the Infrastructure (SOTI) report and our asset management?" asked Mayor Barb Clumpus at the September 25 meeting. "There are a number of individuals that have complained about the state of their roads, and consider their roads priorities. So where does it fit in the overall scheme of our asset management plan and rehabilitation plan?"
Meaford Treasurer Darcy Chapman's response was blunt.
"Outside of it," responded Chapman to the mayor's question. "That's the whole point of the Roads State of the Infrastructure (report), keep the good roads good, and the bad roads are going to get worse, and will continue to get worse unless we can get one time funding whether it's money from Grey County, or it's a surplus or a government grant, whatever the case may be. So, it's simply outside of the scope."
Chapman told council that it would cost roughly $400,000 to do the proper rehabilitation that is needed for the section of Story Book Park Road, and he noted that there are numerous roads in the municipality in need of the same sort of rehabilitation, each requiring roughly $200,000 per kilometre.
During discussion of Councillor Bartley's motion at the September 25 council meeting, some members of council expressed concern that addressing the state of the section of Story Book Park Road now would result in a jumping of the queue, and would cause disruption in the roads preservation model adopted by council in 2014 that aims to keep 'good roads good', while accepting that roads already in poor condition would continue to see their condition decline until funding could be found for rehabilitation of poor condition roads.
"So this would be jumping the queue," Mayor Clumpus noted.
Chapman responded by noting that "any road that is outside of the preservation model that we can find funding for, jumps the queue of every other one of those roads that's outside the preservation model that we don't have funding for. Ultimately when we look at the ten year roads SOTI, there are 160 kilometres of our 400 kilometre network that aren't being touched in that ten year period. So this is 1.9 kilometres of that 160 kilometres."
Councillor Jaden Calvert agreed that it is difficult to assign a high priority to the section of Story Book Park Road when there are numerous other roads in equally dire need of rehabilitation.
"I don't think it would be really fair to put this road as a priority without looking at the whole picture," noted Calvert.
Councillor Bartley countered that the Story Book Park Road situation is unique in that the road had been hard surfaced, but was pulverized and returned to gravel.
"I wouldn't expect to jump (the queue) for any road, especially not the one in front of my house which is in worse shape than the road we're talking about," noted Bartley. "But this road was black-topped, these 24 residents had houses, nice houses on a hard surface treatment road, and it was taken away from them. And that changes the game as far as I'm concerned."
Councillor Mike Poetker disagreed.
"This is exactly negating our voted on roads SOTI. It changes everything. I can't support it because we've already decided how we're going to maintain our roads, and this jumps in the way of that," suggested Poetker. "We have a roads SOTI for a reason, we voted on it for a reason, and I don't think we should change it."
Deputy Mayor Harley Greenfield reminded council that voting in favour of Bartley's motion wouldn't commit the municipality to any particular action, as what was being sought in the motion was a report outlining the options and associated costs to address the concerns on Story Book Park Road, east of Grey Road 11.
"Regardless of what has happened in the past, I believe what Councillor Bartley is bringing forward here is a proposal that perhaps will move us forward in the future. He's only asking for a report to be brought back," offered Deputy Mayor Harley Greenfield.
Ultimately council voted 4-3 in favour of directing council to prepare a 2018 budget enhancement report outlining the options for the road.