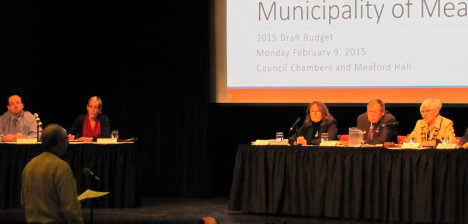 Property owners in Meaford will see the smallest increase on their property tax bills in more than five years after council chipped away at the initial 1.79 percent increase proposed by municipal staff in December, to arrive at a 1.32 percent proposed increase at their final budget meeting at Meaford Hall on February 9.
After a series of public engagement budget sessions, the mandatory public meeting held on February 9 was the final step before an anticipated March 2 budget vote by council. The 1.32 percent increase on the municipal portion of Meaford's property tax bills will amount to an additional $26 per year for the average single family home assessed at $254,000.
In addition to the rate increase, Meaford residents will pay more for garbage bag tags in 2015 (increasing from $2.00 to $2.50), and for water and waste-water (10.52% extra for water, 6.88% extra for waste-water).
While the February 9 meeting was the last opportunity for residents to ask questions, and offer opinions on the 2015 municipal budget, fewer than 25 residents attended the meeting, and only a handful took the opportunity to ask questions of council and staff.
In spite of the relatively small rate increase, some residents aren't convinced that enough has been done to cut costs, but Meaford's Treasurer, Darcy Chapman explained that looks can be deceiving. At first glance, it would appear that staff trimmed approximately $20,000 from the base budget when compared to last year, however Chapman says, it took a lot of effort to get there.
"To say there are no meaningful cuts would be not really understanding the process on the operating side that we had to go through this year," explained Chapman. "The original budget we brought forward had a $20,000 decrease in the operating budget. Now, that doesn't seem like very much money, and $20,000 as it is, isn't very much money, but you have to recognize that the operating budget went down by $20,000, and that was inclusive of the fact that we lost $100,000 in provincial funding, that our insurance premiums are going up by $50,000, that our utility costs are going up an additional $35,000, that our waste management fees are going up by an additional $14,000, audit fees are going up $6,000, and so on, and so forth."
In total Chapman says, some $320,000 in lost revenue or increased costs had to be accommodated in the 2015 municipal budget meaning the cuts made to the budget by staff were far more significant than $20,000.
Council too made some adjustments during the draft phase of the budget process, scaling back the proposed staff cost of living increase from 2 percent to 1.5 percent, and shifting priorities on various projects in an effort to lower the required rate increase.
It is anticipated that a council vote on the 2015 municipal budget will take place on March 2 at the council chamber.