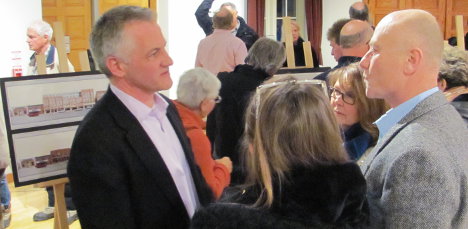 A public meeting held at Meaford Hall on February 2 to discuss the proposed redevelopment of a section of Sykes Street attracted supporters of the project as well as those opposed to it.
Roughly 150 residents attended the meeting which was preceded by an open house in the hall galleries allowing those wanting more information to view drawings and talk with the developer proposing the redevelopment project, Lino Toncic.
The core of Meaford's downtown business area could look very different if the proposed redevelopment of buildings located at 35 to 47 Sykes Street is implemented.
A recently submitted development application posted in the municipal website suggests that the building that currently houses the Simply Unique floral and gift shop and a wool and fabric shop could be torn down in favour of a five floor mixed-use commercial and residential building. The proposed development – which also includes a completely new structure on the former Canadian Tire property which is located behind the Sykes Street building - would include approximately 90 residential units as well as underground parking.
In order for the proposal to become a reality, property owner Toncic will first need to secure an amendment to Meaford's Official Plan in order to remove height restrictions that would currently prohibit the construction of a five storey building in the downtown core. Current regulations limit structures in the area to three storeys.
While residents spoke out in favour of, and against the redevelopment plan, Toncic told the audience that his ultimate goal is to bring new life to Meaford's downtown core, and to provide the opportunity for jobs and housing.
"I want to bring Meaford back to the future," Toncic told the audience explaining that in the 1880's Meaford had booming industrial and commercial sectors, and it is that former glory to which he would like to see Meaford return.
In an interview before the meeting, Toncic told The Independent that his vision is one of prosperity and change.
"The vision is one of prosperity, it's one of opportunity, and it's one about things have got to change," explained Toncic. "Small towns all across Canada are going through the same process, they're all facing the same issues, the same economic issues, the same tax issues. The residential tax base is having to bear the cost of everything, and I think this is going to be an opportunity for change."
Not so fast says David Baker, Chair of Heritage Meaford, a branch of the Architectural Conservancy of Ontario who are concerned about the plan to tear down what he and his organization see as important historical buildings with architecturally significant qualities worthy of preservation. Another concern is the proposed height of the new building.
"We're concerned about losing the original, unique, 130 year old brick facades. We've been in some of those buildings over the years, and there have always been issues, and it's very hard to bring them up to fire code, and we know that, but there's a movement afoot to called "facadism" and in Vancouver it's really been the fallback position of the heritage committees. When you have a developer that's interested in your town, you don't want to disregard the proposal, but we really would like the facades saved," explained Baker.
Toncic on the other hand told The Independent that preserving the facades of the century-old buildings is cost prohibitive.
"It's not economically viable. You can pull bricks right off of those buildings. It's great to say we should save them, but someone about fifty years ago should have spent a little bit of money and a little bit of time to do it. That was the time to do it. Once you've let it go beyond a certain point, it's next to impossible," suggested Toncic.
While Toncic says that preserving the facades is cost prohibitive, some, like Heritage Meaford disagree, while other ask how anyone can know what the cost would be given that there has been no effort to find out.
"We have tonight heard something very interesting. We have heard it stated as a fact that it's not economically viable to keep these buildings. I don't question that. But I do wonder if it isn't economically feasible to keep the facades of those buildings, and to put modern buildings in behind. Is it economically feasible? I don't know. Nobody has asked a heritage architect – what would be the net difference in cost if you retain those facades? What would it cost? We haven't been told," asked one resident during the public meeting.
Council will review the comments made by the public in favour and opposed to the proposed development before making any decision on the granting of the requested Official Plan amendments to accommodate the requested building height.