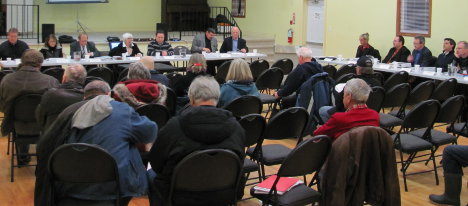 Just 19 residents attended a public budget session held at Woodford Hall on Wednesday evening (January 28), barely outnumbering the 16 members of council and municipal staff who had arranged the meeting to present the proposed 2015 municipal budget.
A meeting held at Stone Tree Golf Club where the budget was also presented two nights earlier attracted just two residents.
In December Meaford's council directed staff to prepare a budget for 2015 with a tax levy increase that would not exceed the October 2014 Canadian consumer price index (CPI) of 2.4 percent. The budget presented to council and the public for consideration would increase the municipal portion of property tax bills by 1.8 percent, along with a 50 cent increase in the price of garbage disposal tags.
In real dollars, Meaford Treasurer Darcy Chapman, and CAO Denyse Morrisey, told those in attendance that the proposed budget increase would mean an owner of an average family home in Meaford with an assessment of $254,000 will pay an additional $34.46 on the municipal portion of their tax bill in 2015 – an additional $2.87 per month, while the average waterfront property with an assessed value of $565,800 would see an increase of $76.49 in 2015 ($6.37 per month).
The budget features increased capital spending on roads and bridges in the municipality in 2015, and Treasurer Chapman noted that none of the more than $4 million in capital projects will require the municipality to take on any additional debt. Meaford's long-term debt has been in decline since 2011 when it was more than $10 million. The current debt-load of roughly $9 million is expected to be down to approximately $7 million by the end of 2019.
The proposed budget for 2015 also includes significant increases in water and waste-water rates as part of a multi-year plan approved in 2011 to ensure Meaford is in compliance with ever more stringent provincial water legislation, and to ensure that the system is fully supported by the users of the water system as required by the province. General taxation funds are not used for Meaford's water and waste-water service, only those who use municipal water pay for the service.
While much was made of Meaford's high taxes during the lead-up to the October municipal election, those who attended the meeting had little to say about taxation level when given the opportunity to ask questions, or to offer opinions. Also notably absent were questions about the number of municipal staff on the payroll in spite of a two percent pay increase for municipal workers included in the proposed budget. Tables included in the budget documents peg Meaford's full-time staff at 61 in 2015 (59 in 2011), and when part-time, seasonal, and student employees are included, Meaford's full time equivalent (FTE) staff is approximately 80.5.
While questions were asked about the cost of operating Meaford Hall, and others suggested the recently adopted plan for addressing Meaford's roads was a flawed document that council should discard, council and staff were saved the intense grilling they've received from residents, particularly rural residents in recent years during budget preparation.
Those who didn't attend the two public budget sessions held on January 26 and 28, still have an opportunity to ask questions and offer opinions before council approves a final budget for 2015.
In February council will meet to deliberate the 2015 capital and operating budgets on February 2 at 3 pm, and February 9 at 3 pm. Both meetings will be held in the council chamber. A mandatory public meeting will follow on the evening of February 9 at Meaford Hall.
According to the schedule posted on the municipal website, the budget is expected to be completed and approved by council by March 2.
All 2015 budget documents are available on the municipal website.