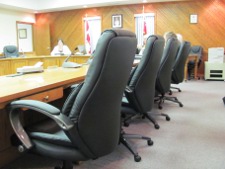 At their next meeting on May 25, Meaford councillors are scheduled to vote on a proposed revision to the municipal long-term debt policy.
If approved, the new policy, which was presented to council at their May 11 committee of the whole meeting, would shift from a restrictive policy implemented in the wake of Meaford's five year plan for financial recovery after having found itself with some $3 million in accumulated deficits, to a less restrictive set of rules that would give the municipality more flexibility when considering funding options for municipal projects.
Meaford Treasurer, Darcy Chapman, told council that if used wisely, long-term debt can be a useful tool for municipalities.
"The old policy was developed during the financial crisis that Meaford went through. It really spoke about the fact that there would be no new debt," Chapman told council on May 11. "When it's long-term infrastructure, debt is a good thing because it helps to spread out the cost over the generation of the people who will be using that infrastructure."
Meaford's current long-term debt policy does not allow the municipality to take on debt for infrastructure projects in most cases.
Ontario municipalities are allowed to incur long-term debt for municipal infrastructure as long as annual debt repayments do not exceed 25 percent of net revenues. The Province provides an annual statement for municipalities known as the Annual Repayment Limit statement, outlining the revenue and debt servicing calculations. The Municipality of Meaford's 2014 Annual Repayment Limit statement from the Province shows that the Municipality is utilizing just 6.33 percent of net revenues to service debt and is only utilizing 25.3 percent of the legislated capacity of net revenues, according to Chapman's report to council.
"If there was ever a time to utilize debt effectively, now, or in the near future would be that time, because we have seen (interest) rates that are at an all time historic low, I'm sure they're not going to much lower," Chapman advised council.
No new debt is required to complete projects within the approved 2015 budget, though Chapman noted that the Nelson Street Booster Pumping Station will require more than $2.1 million in long term financing in 2016/17 which will be repaid through water user rates and development charges.