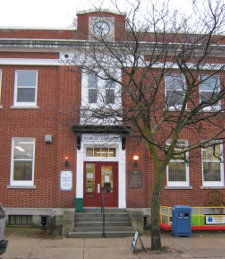 On Monday, January 12, 2015 an important study of library facility needs in the municipality of Meaford will be presented to council. Compiled over the past year, this comprehensive study examined the space required for the Meaford Public Library to carry out both current and future services.
Library board member Peter Bantock said, "This study helps us move towards a new, accessible library facility to better serve the community. We hope that members of the public will attend the presentation to Council on January 12.  We must continue to invest in our community by providing vibrant, leading-edge library services to support all residents in the municipality of Meaford. The results of this study set the path for our next steps."
Michael Lundholm, who executed the space needs study, will present the results at the January 12 Committee of the Whole meeting at 3 pm in Council Chambers. It will include details about possible floor plans, preliminary costing, and long term recommendations.
Meaford Public Library CEO Cathie Lee commented, "We are excited to have the results of this important study of our library's needs. Today's libraries are about much more than just books. Public libraries help build literacy skills, foster lifelong learning, and provide a welcoming, accessible community hub that spans the generations. A new facility will enable the Meaford Public Library to offer a space for people to connect with each other, acquire new skills and technologies, and offer a world of diverse resources to our community."