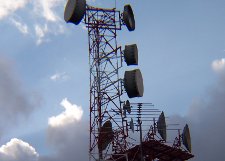 Meaford's attempts to prevent a Rogers cell tower from being constructed on Edwin Street near Georgian Bay Secondary School may have backfired as alternative locations and requests for small cell technology have been rejected by Rogers, and the tower is likely to be erected in the originally planned location.
Todd White of CRINS submitted update correspondence to the municipality which was discussed at the Monday December 8 meeting of council. In that correspondence White told councillors that Rogers will push forward with their original plan to build the tower on Edwin Street.
"The letter provided to council is in response to Rogers Communication requesting guidance with regard to their specific application," Meaford's Director of Planning and Building, Rob Armstrong, told council on December 8. "It is in accordance with Industry Canada guidelines for applications."
Armstrong said that while many residents have expressed concern about a new cell tower in the urban area of the municipality, attempts to negotiate an alternate location, or for the introduction of small cell technology in order to minimize perceived health risks have not been successful.
"It's within Rogers' right to through Industry Canada to seek approval for their original application," Armstrong advised council.
Among the attempts made by the municipality to find an alternate location for the tower was a proposed flag-pole cell tower at the harbour. At their September 8 meeting, council gave initial approval to a staff report recommending that the municipality enter into a lease with Rogers, who would then install a flagpole cell tower at Meaford's harbour.
The lease would have netted the municipality $12,000 per year, and it would have ensured that the cell tower wass not placed in a residential area, or near a school as had originally been planned.
While council voted 5 – 2 in favour of negotiating a lease with Rogers (Deputy Mayor Harley Greenfield and Councillor Lynda Stephens voted against), some councillors appeared conflicted about how they should vote, and community members who entirely oppose the cell tower attended the meeting in an attempt to steer council away from approving a lease.
The flagpole at the harbour was described by some members of council as a compromise by Rogers that the municipality has little choice but to accept.
Vocal opposition to the original proposal, which would have seen Rogers install a cell tower on Edwin Street in close proximity to Georgian Bay Secondary School, focused on potential health effects from such a tower, and a quickly organized opposition group pleaded with council to seek outside assistance before making a decision.
White's December 8 letter to the municipality said that Rogers has fulfilled all of the requirements for moving forward with their plan including extensive public consultation, and he said that the Edwin Street site, while not favourable to all in the community, meets all of the requirements of Industry Canada.
Armstrong told council that there is little Meaford can do now aside from continuing to have CRINS advocate on their behalf, and to await a decision from Industry Canada.