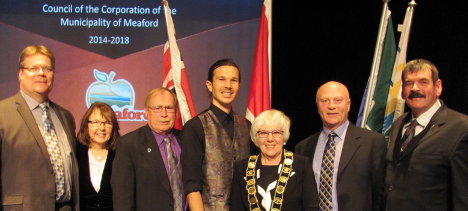 Meaford's newly elected council was officially installed at a special inaugural meeting held in the Meaford Hall opera house on Monday December 1.
Before an audience of approximately 200 – many friends and family of the council members – Meaford's new Mayor, Barb Clumpus along with Deputy Mayor Harley Greenfield and Councillors Mike Poetker, Jaden Calvert, Shirley Keaveney, Steven Bartley, and Tony Bell were escorted into the hall accompanied by the sounds of a piper and flag bearers.
Two Ontario Superior Court Justices, Alison Harvison, and Herman Wilton-Siegel were on hand to conduct the declaration of office for each of the members of the new council.
Outgoing Mayor Francis Richardson performed his final task in that role when he turned over the mayoral chain of office to Barb Clumpus.
The new mayor told those gathered that she and the rest of council are ready to work together to "accomplish great things," and she expressed confidence in the council that Meaford voters elected on October 27.
Each member of council was given an opportunity to say a few words after they had been sworn in, and while each had different people to thank, and various priorities to express, the common theme was a confidence that this council is prepared to get to work immediately.
Mayor Clumpus took the opportunity to remind the audience that while council is tasked with establishing policy, and determining municipal priorities, Meaford's volunteers are the backbone of the community.
"Our community groups and organizations play such an important role in making our community work. It is great to see so many representatives of these organizations here with us today, and I want to thank their volunteers for making our municipality the wonderful community that it is," offered Clumpus.
Clumpus also said that she and the other members of council take their role seriously.
"In this formal ceremony we have promised to uphold the bylaws of the municipality, and the delivery of good governance. We take this responsibility very seriously, and commit to conducting the business of the municipality with dignity, respect, and integrity."
After the inaugural meeting, the Mayor told The Independent that she's excited to get to work at her new job. She and her fellow council members don't have long to wait as the first committee of the whole council meeting is scheduled for Monday December 8.