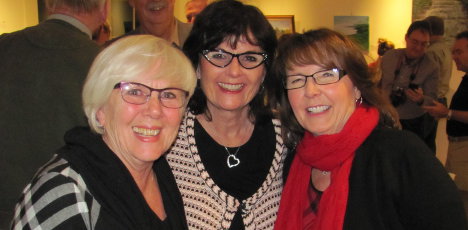 Meaford voters elected Barb Clumpus to be the next Mayor of the municipality in the October 27 municipal election. Clumpus earned 356 more votes than her nearest opponent, Jim McPherson.
McPherson, a former member of council lost in a mayoral bid in 2010 to Francis Richardson by a similar margin of 291 votes.
Clumpus told The Independent that she was thrilled with her win, and she is eager to get to work with the newly elected council.
Deputy Mayor Harley Greenfield easily retained his seat, beating David Long by nearly 1,000 votes.
Incumbent councillors didn't fare well in this election with only Councillor Mike Poetker returning. Councillors James McIntosh and Lynda Stephens both finished well behind the elected councillors after the votes had been counted.
Joining Poetker around the council table will be four newcomers – Steven Bartley, Tony Bell, Jaden Calvert, and Shirley Keaveney. Keaveney finished with 3,042 votes, far ahead of her fellow council candidates.
Meaford Clerk Robert Tremblay told The Independent that 75 percent of voters used the internet to vote, while 25 percent cast their votes by phone. A report will be prepared with a breakdown of the vote by age group, and Tremblay said that the turnout for older voters was even higher than the overall voter turnout of 50 percent.
Watch for the full story in The Meaford Independent tomorrow.
2014 Meaford Municipal Election Results
The votes have been counted, and here are the results for the 2014 Meaford municipal election as reported by municipal Clerk, Rob Tremblay.
| | |
| --- | --- |
| Candidates For Mayor | Number of Votes |
| Barb Clumpus | 1885 |
| Noreen Hunter-Riley | 41 |
| Ray McHugh | 1069 |
| Jim McPherson | 1529 |
| Deborah Young | 364 |
| Candidates for Deputy Mayor | Number of Votes |
| Harley Greenfield (Incumbent) | 2862 |
| David Long | 1875 |
| Candidates for Council | Number of Votes |
| Peter Bantock | 836 |
| Steven Bartley | 1776 |
| Tony Bell | 2470 |
| Jaden Calvert | 2008 |
| Evelyn Dean | 1251 |
| Shirley Keaveney | 3042 |
| James McIntosh (Incumbent) | 1541 |
| Steve Nickels | 1455 |
| Mike Poetker (Incumbent) | 1854 |
| Lynda Stephens (Incumbent) | 907 |
| Glen Tichbourne | 1470 |
| Tim Traut | 788 |
| Shannon-Lee Wilkie | 1006 |
| Voter Turnout | 50% (4985 of 9952 eligible electors) |