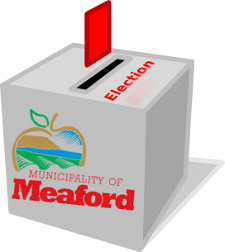 As of Monday morning (October 27), the last day of voting in this year's municipal election, more than 40 percent of eligible voters have already cast their ballots for the 2014 municipal election in Meaford.
"As of right now, 40.5% of electors have voted. The rate of voting is fairly steady and people must be logged in to vote by telephone or internet before 8 p.m. However, we encourage people not to wait until the last minute," said Meaford's Clerk, Rob Tremblay on Monday morning.
Voter turnout in the last municipal election in 2010 was 50 percent.
Meaford's 11 day voting period began on Friday, October 17 at 10:00 am. Meaford voters will be able to cast their votes for Mayor, Deputy Mayor, Councillor, and school board Trustees until 8 pm on October 27.
With the new electronic voting system, Tremblay is expecting to be able to announce results shortly after the 8 pm voting deadline. Results will be announced live at Meaford Hall.
Votes can be cast by phone or by internet – there is no paper ballot in this election.
Electors who have not received their personal Voter Information Letters must visit a Help Centre to be added to the Voters' List with identification showing name and address.
Voters are reminded to enter the complete web address (https://www.intvoting.com/Meaford2014) found in their personal letters when voting using the internet. A direct link can also be found on www.meafordvotes.ca, and on The Meaford Independent website.
Because there is no paper ballot, there are also no polling stations, however the following locations have been established by the municipality as Help Centres. Electors can be added to the Voters' List and receive assistance and clarification on the election process including access to a telephone or internet.
Meaford West Help Centre
458372 Grey Road 11 (Sydenham Depot)
Saturday, October 25 - 10:00 a.m. to 3:00 p.m.
Meaford East Help Centre
21 Trowbridge Street West (Municipal Office)
Friday, October 24 - 8:30 a.m. to 4:30 p.m.
Sunday, October 26 - 1:00 p.m. to 4:00 p.m.
Monday, October 27 - 8:30 a.m. to 8:00 p.m.
The Meaford Public Library will also have an internet terminal available during regular hours of operation.
For more information, you can visit www.meafordvotes.ca, email election@meaford.ca, or call 519-538-1060.