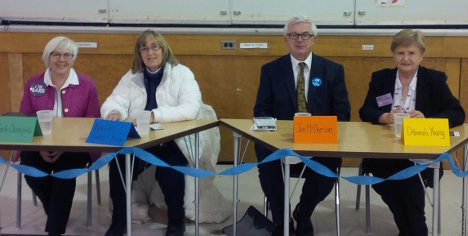 Mayoral candidates for the 2014 Municipal Election participated in a debate last week facilitated by the Meaford Public Library in conjunction with Meaford Community School and St. Vincent Euphrasia Elementary School.
Ten classes participated in the debate, determining the questions and monitoring the timing for answers. The students will hold their own vote after the assembly with materials provided by Student Vote.
The candidates were invited to support this initiative, answering questions relating to open space for leisure activities, accessible French immersion programs, creating new jobs and recruiting businesses, the future of GBSS, policing options, increasing festivals and events, and access to medical care and affordable housing.
"The Meaford Public Library is thrilled to find another opportunity to connect with students in our community. This hands-on learning experience demonstrates our democratic process first hand and we are so pleased that there was such a strong turnout", said Library CEO Cathie Lee.
A school's participation in the Student Vote program is voluntary. Depending on the degree to which they become involved, materials offer in-class learning, family dialogue, media consumption and an authentic voting experience. Classes from Meaford Community School, St. Vincent Euphrasia Elementary School, Sydenham Community School and Georgian Bay Secondary School all registered with Student Vote for this election.
Taylor Gunn, President of CIVIX, the non-partisan charity that organizes the Student Vote program across Canada, commented on today's events:
"We're thrilled with the leadership that the Municipality of Meaford is showing in this election with their support of the Student Vote program. Engaging community partners and candidates in the coordination of a debate is a model we hope to replicate across the province in future elections. Congratulations on such a job well done."
"We believe outreach to our schools is an important part of the election process. We are glad the Mayoral candidates saw this outreach as worthwhile and took the time to engage with our youth. We hope to work closely with other municipalities and schools in the future to expand the Student Vote program for the 2018 election", added Rob Tremblay, Clerk for the Municipality of Meaford.