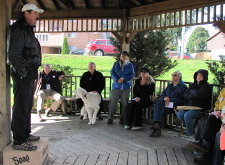 Three Soap Box Saturdays are in the books, and there are just two remaining. This Saturday the Soap Box will return to Fred Raper's Park at 11 am.
Confirmed candidates for this week include Mayoral candidate Deborah Young, Council candidate Glen Tichbourne, and school board trustee candidate Linda Hamill.
While the first two Soap Box Saturdays we held outside the Meaford Independent office, the turnout had been larger than we had expected, and the weather has become less predictable, so last week we moved the event to Raper's Park which has the added benefit of a covered gazebo should it rain, and there is less noise than the busy intersection of Sykes and Nelson Streets.
Fred Raper's park is located at the corner of Bayfield and Sykes Streets – home to the popular pirate ship playground equipment.
Come on out and root for your favourite candidates, ask questions, and listen to the candidates as they share their visions for Meaford. While we will be protected from rain, we advise dressing warmly. We look forward to seeing you there!