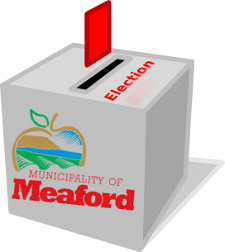 Voter Information Letters have been mailed out to electors on the Voters' List in the Municipality of Meaford.
"We expect residents to receive their personal letter on or around October 10, 2014," said the municipality in a press release issued Wednesday October 8.
A separate letter will come to each resident on the Voters' List. Within your Voter Information Letter, there will be the following:
Website address and telephone number to access the voting system (depending on which method you choose)

Your Voter ID and PIN number (unique to each elector)

A complete list of candidates

The list of hours for the Help Centres in Meaford East (Municipal Office) and Meaford West (Sydenham Depot) where access to the internet and a telephone will be provided, as well as assistance should you need any guidance
Voters are reminded to keep their Voter Information Letter with you when voting, or bring it with you when you visit a Help Centre.
If you don't receive your Voter Information Letter before the opening of the Voting Period on October 17, at 10 am, please visit a Help Centre.
For more information visit www.meafordvotes.ca or call 519-538-1060.