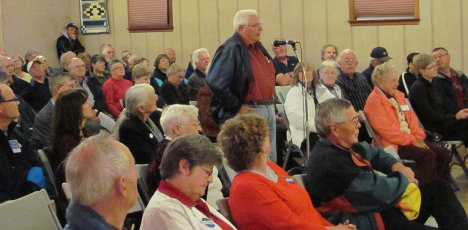 The first candidate meeting for the upcoming municipal election was held in Bognor on Monday October 6. All 13 candidates for the position of councillor attended the meeting to share their visions, and to take questions from the more than 200 attendees.
While public meetings in Bognor over the last year have often been boisterous, anger fuelled events, Monday's meeting was a stark contrast, perhaps in part to a request from the debate organizers – the Bognor Hall Board of Directors – that de-amalgamation comments be left at the door.
"I'm glad to see this many people here," said Bognor Hall board member Gary Shute in his opening remarks. "This meeting is about moving forward with the whole municipality, so we would appreciate, on behalf of the Bognor Hall board, that de-amalgamation does not come into question period."
Shute's request was met with applause from the audience.
When it came time for those in attendance to ask questions of the council candidates, the common themes were roads, high taxes, and excessive municipal staff. Throughout the evening, candidate responses to questions were met with applause ranging from polite to enthusiastic, but the most vigorous applause followed a question of whether the candidates if elected would take hold of the municipal reins, or if they would continue, in the opinion of many, to allow staff to call the shots.
A more boisterous debate is likely on Tuesday evening when candidates for mayor, deputy mayor and school board trustees will be on the hot seat at the Meaford & St. Vincent Community centre.
That meeting, originally scheduled for 7 pm, will now begin at 6:30. Those same candidates square off again the following evening in Woodford.
The remaining candidate meetings are as follows:
Mayoral, Deputy Mayor, and School Board Candidates:
Woodford Hall, October 8th, 6:30 to 9:30 pm
55+ Club, October 14, 2:00 pm, at the Meaford & St. Vincent Community Centre
Bognor Hall**, October 15th, 7-9 pm
Councilor Candidates:
55+ Club, October 7, 2:00 pm, at the Meaford & St. Vincent Community Centre
Meaford Community Centre*, October 14th, 6:30—9:30pm