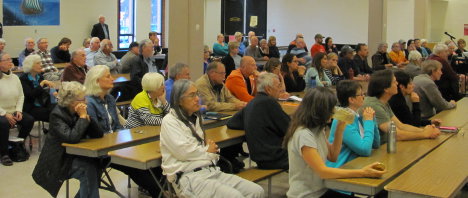 Cell towers have been the focus for many in Meaford in recent weeks, and it could possibly be on residents' minds for many weeks to come.
At a special meeting of council on Monday September 15, Meaford's council voted unanimously to defer a decision on a proposed lease of harbour property for a Rogers cell tower.
Council made their decision based on advice from Todd White of CRINS, who has been representing Meaford's interests with regard to cell tower placement in urban or settlement areas. White had informed the municipality that Rogers was no longer the only cell provider with their eye on Meaford for a new tower.
"As you recall, CRINS-SINRC advised Council on June 9 th that it was expected that while Rogers was the first to seek towers for 4G wireless expansion in Meaford, it was anticipated that other spectrum license holders would follow," wrote White in his letter. He confirmed that another service provider has their eye on Meaford. "Based on the confidential plans disclosed by the proponents to CRINS-SINRC at this time, we must advise Council that it would be prudent to defer signing the lease for the proposed Marina site with Rogers until such time as CRINS-SINRC has had an opportunity to review the cumulative requirements of the proponents as it may result in changes to the lease, or it may be determined by Rogers that the site is no longer required given other proposed developments."
At that same meeting, Councillor James McIntosh told his fellow councillors that he will be bringing a resolution to the next meeting of council that would declare Meaford an "unwilling host" for cell towers in urban and settlement areas. While such a declaration might not protect Meaford from cell towers being erected in the urban part of the municipality, it would send a message to cell providers, and it might find the support of other municipalities, as happened with wind turbines. Many rural municipalities in Ontario, including Meaford, declared themselves unwilling hosts for industrial wind turbines to send a message to both the Ontario government, and to wind power companies proposing wind farms.
While Meaford waits for further updates, concerned residents are continuing to research the issue, and to inform Meaford residents about the potential heath issues associated with cell towers.
On Wednesday, September 17, nearly 100 residents attended an information session held in the cafeteria at Georgian Bay Secondary School, to learn more about the issue, and to better understand the process involved in protecting a community from unwanted cell towers.
Organizers of the meeting provided an overview of the history of the current cell tower proposal in Meaford, the sites considered, and the steps taken by both residents and council with regard to the issue.
In addition, a former journalist, Rodney Palmer, made a presentation in which he spoke about the potential health issues and legalities surrounding cell towers. Palmer lives in Collingwood where he runs a sauna manufacturing company, and has been a long-time, vocal opponent of cell towers in residential areas.
With three cell providers now seeking a location for a tower in Meaford, the issue could become a political hot potato as the October 27 municipal election approaches. Council's next meeting is scheduled for Monday September 22.