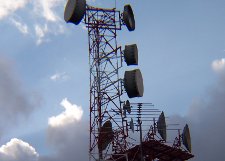 A group of Meaford residents concerned about the plans for establishing new cell towers in the urban area of the municipality are hosting a meeting to inform the public.
Dubbed a "community crisis meeting," by a group called Meaford 4 Safe Technology, the agenda includes a presentation from the Citizens for Safe Technology on the potential health effects that some believe are associated with prolonged proximity to cell towers.
The meeting will be held on Wednesday September 17, at 6:30 pm at Georgian Bay Secondary School.
Before that community meeting takes place, Meaford council is holding a special meeting of council on Monday September 15 at 2:30 in order to discuss new information that other service providers are also planning new towers in Meaford.
On September 10, the municipality received a letter from Todd White, Executive Director of the Canadian Radio-communications Information and Notification Service (CRINS) to inform council that another cell phone company is also looking to upgrade its service in Meaford.
White has suggested that Meaford defer a decision on entering into a lease with Rogers until they have had an opportunity to provide an update to the municipality.
"As you recall, CRINS-SINRC advised Council on June 9 th that it was expected that while Rogers was the first to seek towers for 4G wireless expansion in Meaford, it was anticipated that other spectrum license holders would follow," wrote White in his letter. He confirmed that another service provider has their eye on Meaford. "Based on the confidential plans disclosed by the proponents to CRINS-SINRC at this time, we must advise Council that it would be prudent to defer signing the lease for the proposed Marina site with Rogers until such time as CRINS-SINRC has had an opportunity to review the cumulative requirements of the proponents as it may result in changes to the lease, or it may be determined by Rogers that the site is no longer required given other proposed developments."
The special council meeting will be held on Monday September 15, at 2:30 pm in the council chamber.