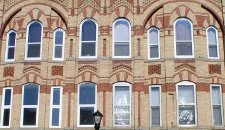 The Municipality of Meaford now has a Heritage Conservation District, though not all members of council support the initiative which was narrowly approved in a 4-3 vote at the July 28 meeting of council.
Of particular concern for the members of council who voted against the adoption of a heritage conservation district is the potential for burdensome restrictions placed on property owners within the district which encompasses the downtown core of the municipality.
Council was advised that the new policy attempted to impose as few restrictions on property owners as possible, while maintaining the facades of Meaford's heritage buildings.
Municipal planning staff explained to council the activities that would, and would not require a permit from the municipality.
Permits in the Heritage Conservation District will now be required for:
Major alterations to street-facing facades of heritage buildings

Additions to buildings

Infill/new construction

Demolition of buildings and structures

Modification of the openings (size/shape etc) for windows and doors

Construction of new porches on street-facing facades

Changing of the building cladding materials on front-facing facades on heritage buildings
No permit will be required for the following activities:
Interior modifications

Roof materials replacement

Skylights

Solar Panels

Satellite Dishes

Security lighting and alarm systems

Eavestroughs and downspouts

Soft landscaping

Hard Landscaping

Maintenance or small repairs

Painting

Canopies and awnings

Amenity Lighting

Fencing in rear or side yards

Porches not visible from the street

Signage for businesses

Repair of above-ground utilities

Installation of underground utilities or services
As part of the process, a heritage committee will be established to offer opinion and advice to council prior to approval of permits in the heritage district.
The process for permit approval for heritage buildings within the district will be as follows:
Planning Staff pre-consult with property owner considering development to determine if Permit is required.

If Permit is required, Staff will determine if it is minor or major. If it is minor, the Director can approve the permit if it is in accordance with the Guidelines.

If a permit is major, it will be referred to a Municipally-appointed Heritage Committee who will produce a report which will go to Council for the consideration of a Permit.

Should Council wish to also obtain a professional opinion from a Heritage Planner, this could also be obtained. The benefit to this component is so that, should a permit be appealed, the Municipality would have the benefit of a Professional opinion that could be used at a Hearing. It should be noted that this Professional opinion will occur at a cost to the Municipality, however more than likely it will be related to a Planning Application and therefore the cost can be recouped through that process.

We anticipate that it will take some time to setup a Committee. In the Interim, major permits will go straight to Council and Staff will seek input from MHBC within our recommendations. We do not anticipate a lot of applications outside of the Planning process during this time.
While planning staff attempted to have as few restrictions as possible, some members of council have concerns about the new policy. Councillors Lynda Stephens, Mike Poetker, and Deborah Young all voted against the new policy.
"I note that they (other communities with heritage districts used as comparison in the planning staff presentation) are all economically vibrant. We do not have an economically vibrant downtown," suggested Councillor Mike Poetker. "I guess what my concerns and my cautions are, with the intent to preserve in time, you are possibly going to create an un-vibrant situation where if you do not have more money, new money coming in, you will not have either the money to maintain old buildings, and they will fall into dis-repair due to neglect. It's a balancing act that we're going to find very difficult."
**Editor's note: When first published online, we inadvertently included Harley Greenfield as one of the members of council who voted against the heritage district. The three councillors who voted against the policy were Stephens, Young, and Poetker.