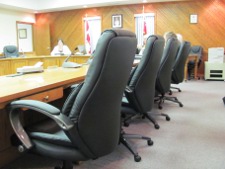 Thinking about running in the upcoming municipal election or school board election? Wondering what's involved? Not sure who to ask?
The Municipalities of Grey County are hosting a Candidate Information Session at 7pm on August 7 at the Flesherton Kinplex. At the information session, you'll be able to learn everything you need to know about running for office in the 2014 municipal election.
Facilitated by Mr. Norm Gamble, this informative evening will be a great chance for both new candidates and experienced candidates to gain a better understanding of how the municipal election works and what you can expect should you be elected.
The Ontario Ministry of Municipal Affairs and Housing will be present to provide a general overview of municipal elections. Staff from Grey County will share information about what you can expect if you run for Mayor or Deputy Mayor of your municipality and become a member of Grey County Council. Staff from Grey County's member municipalities will be available to answer any questions you might have about running for office in your community, including the election method being used in your community or information about how to file a nomination.
Visit Eventbrite to register to attend and join the Municipalities of Grey County for this informative evening.
For more information, please contact your local municipality:
· Chatsworth: 519-794-3232
· Georgian Bluffs: 519-376-2729
· Grey Highlands: 519-986-2811
· Hanover: 519-364-2780
· Meaford: 519-538-1060
· Owen Sound: 519-376-1440
· Southgate: 519-923-2110
· The Blue Mountains: 519-599-3131
· West Grey: 519-369-2200