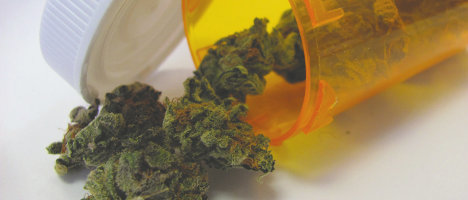 A public meeting will be held in the Meaford council chambers on Monday July 14 which will allow residents to review proposed zoning and policy changes aimed at accommodating Health Canada approved medical marijuana production facilities in the municipality.
The meeting is scheduled for 5:00 pm on July 14, and will provide information for both general proposed revisions to municipal policies, as well as consideration for a site-specific request to establish a medical marijuana production facility on a property formerly used for apple storage and juice production. That property wouldn't some of the proposed policies, however Meaford's Director of Planning and Building has asked council to consider an exception for the property citing the former use of the site.
At their April 28 meeting, Meaford councillors gave final approval to a resolution directing staff to undertake a study regarding land use planning policies for medical marijuana production facilities within the municipality – an action that necessitated an interim control bylaw that has temporarily prohibited the establishment of a medical marijuana production facility until the study is complete, and changes to municipal policies have been made.
It was clear that council wanted the study to be completed as quickly as possible, with some councillors expressing concern that a prolonged delay could hamper potential projects that are already in the works.
While any delay might be frustrating for a new business venture, Rob Mahy, a Meaford resident and co-founder of M.E.N.D (Mother Nature's Natural Design), a medical marijuana patient advocacy and educating collective, says that council and staff are doing what they need to do.
"They're intelligent, and they're on the ball, everybody is doing their job, but they're still behind the pace (adapting to the recently changed federal regulations surrounding medical marijuana production) at this point, and that's all it is," Mahy said of council and staff.
At their June 9 meeting, councillors received a report from Director of Planning and Building Rob Armstrong. In the report, prepared by municipal planner Liz Buckton, the municipal planners provided an exhaustive study with recommendations for the implementation of policies that would ensure that medical marijuana production facilities can be established in Meaford.
The next step in the process is the public meeting in which the public can review the proposed policies and offer comment.
"Through the establishment of the Interim Control By-law, Planning Staff became formally aware of a proposed location for a Medical Marihuana facility located at 205786 Highway 26 within the former Gardner Cold Storage building. This proposed facility would not comply with the proposed Zoning provisions as it relates to setbacks from adjacent residential uses, however considering the former use of this property, it was noted that consideration may be given under this process provided they could address the land use planning impact concerns," said the staff report.