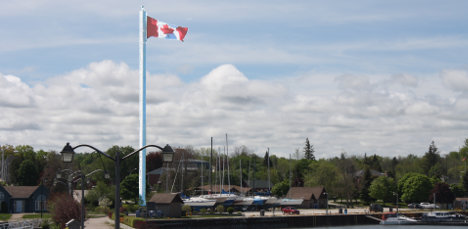 At their June 9 meeting, Meaford councillors received an update on the progress being made by the Canadian Radio-communications Information and Notification Service (CRINS) who had recently been enlisted by the municipality to help navigate the complex waters of cell tower locations after residents had expressed concern earlier this year with a proposed cell tower installation in close proximity to a residential area and Meaford's Georgian Bay Secondary School.
Todd White of CRINS attended the June 9 council meeting to explain the process that had been undertaken by CRINS, and he explained some of the alternate site options that had been explored in that process. White advised council that in his opinion the best option for the proposed tower would be to locate it at the harbour disguised as a large 30 metre high flag pole.
During his presentation to council White attempted to help residents understand why Rogers is seeking a new tower with upgraded capacity when cell phones and other devices seem to work perfectly fine without a new tower. White explained that while Rogers may have been the first to knock on the door in search of a location for a new cell tower – required in order to support a significant increase in the data usage of devices like cell phones, tablets, and laptop computers – others like Bell and Telus are likely to search for a location in Meaford for new towers which would support upgraded service on a 4G network.
Another reason the cell phone companies will be in search of additional towers is due to Meaford's geography. The high ridge of land that surrounds Meaford can make it difficult for signals to reach the urban area of the municipality.
While searching for a more suitable location for a new tower, White said that four options were considered including Lakeview Cemetery, the Meaford Golf Course, Meaford's water tower, and the harbour area.
In each of the locations considered, proximity to residential areas and schools was still an issue, and some could not provide the coverage required, however the option of a cell tower large flag pole could provide many advantages according to White.
With a flag pole structure, the number of antenna connections is limited to nine, and the structure is somewhat of a hybrid in that microwave cellular emissions are drastically reduced because fibre-optic wires are incorporated into the design which lessens the need for larger capacity antenna.
Many residents attended the council meeting to express their displeasure with the proposed solution to the cell tower issue, however White cautioned council and residents about objecting to all proposed sites, as the initial site proposed meets all requirements and legislation, and could very easily be approved in a mediation process.
"Rogers has done their homework, and has met all of the criteria. They would probably get it in 15 minutes," advised White.
No decision was required by council as the information included in the report was for information purposes only.