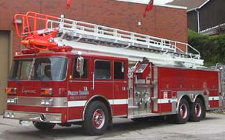 Meaford's Fire Department will finally be able to replace its 40 year old ladder truck after council gave initial approval to a report submitted by Meaford Fire Chief Mike Molloy at their June 9 meeting.
Meaford's current ladder truck is a 1975 model that was purchased from the Orangeville Fire Department in 2004. The truck recently failed tests relating to use of the ladder and the estimated cost to repair is $4,500, however Chief Molloy told council that at 40 years old, continued and costly repairs to the truck would be unwise.
Instead, Molloy sought permission from council to purchase a used ladder truck from the Parry Sound Fire Department.
The 1992 Pierce Tele-Squirt (photo) has 16,200 kilometres on the odometer, and Molloy says it is in excellent condition. The cost? Just $7,500 plus taxes.
Given that brand new trucks of similar type can approach a $1 million price tag, Molloy says that "This is a great opportunity for the Municipality to replace ageing infrastructure at a very reasonable amount.
Molloy told council that both he and a municipal mechanic visited Parry Sound to take the vehicle for a test drive, and the Chief said that the truck has passed all of its current tests.
The replacement ladder truck will be available the week of June 23.