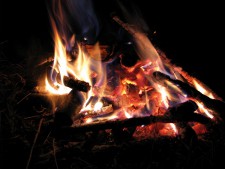 Those planning on having fires on their residential properties this summer should familiarize themselves with Meaford's recently updated Open Air Burning Bylaw.
The bylaw, originally established in 2007, was approved for an update by Meaford's council at their May 12 meeting.
The bylaw regulates open air burns to ensure public safety while also addressing nuisance concerns.
"Over the course of several years the by-law has been successful in educating the public in regards to open air burning," wrote Meaford Fire Chief Mike Molloy, in his report to council. "Inconsistencies in the current by-law require amendment to ensure consistent application. Those changes will assist in a reasonable prospect for conviction for persons in contravention to the provisions of open air burning and to assist in the safety and protection of all persons."
Molloy said that the enactment of the updated bylaw will "ensure a more organized and simplified process to assist in the reduction of administration time and to assist owners of property to be cognisant of open air fire regulations. The provisions and requirements of this by-law ensure that all persons and all adjoining land owners are protected from uncontrolled and nuisance open air burns."
Before starting that backyard fire, here are some things you need to know:
Any open air fire in excess of one cubic metre in size requires a permit from the fire department.

Such a fire shall be on property that is in excess of 0.4 hectares (one acre) of land.

If you don't get a permit, the owner of property on which a fire has been set or permitted to burn in the open air shall be deemed to have permitted the fire to burn and assumes all responsibility and liability.

You can only burn clean wood. "Clean Wood" means any wood not treated or covered with any foreign material such as petroleum products and any other flammable or toxic material which will cause excessive smoke or fumes.

Fires in contained structures less than one cubic metre in size such as a commercial backyard fireplace, barbeque, steel barrel, or a wheel rim do not require a permit, however you must ensure that your fire is more than three metres away from combustible materials such as hedges, fences, trees, and wooden structures.

You must be able to quickly extinguish your fire, and you cannot leave a fire unattended.

Even if you are responsible and comply with the bylaw, you could still be asked to extinguish your fire should a neighbour complain. According to the bylaw a fire causing a "nuisance" means one that is creating excessive smoke, smell, airborne sparks or embers that are likely to disturb your neighbours.