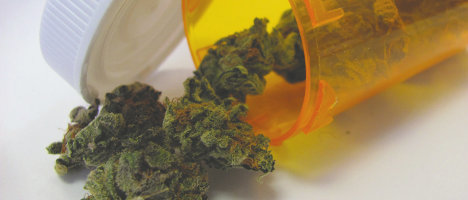 At their April 28 meeting, Meaford councillors gave final approval to a resolution directing staff to undertake a study regarding land use planning policies for medical marijuana production facilities within the municipality – an action that necessitates an interim control bylaw that would temporarily prohibit the establishment of a medical marijuana production facility until the study is complete.
It was clear that council wants the study to be completed as quickly as possible.
A staff report submitted to council on April 14 highlighted a need for the municipality to develop policies relating to legal medical marijuana growing operations, with Director of Planning Rob Armstrong telling council that his office has already received inquiries from companies seeking to establish a production facility under Canada's recently revised medical marijuana growing policies.
On April 28, councillors, as they had also done on April 14, expressed concern that a study might delay projects currently underway. Armstrong told council that it is his intention to have the study completed within two months.
"The interim control bylaw under the planning act is to freeze things for a short period of time. The maximum under the planning act is one year, and then you can extend it a year, but the intent of planning staff is to have the study done within the next couple of months," Armstrong told council on April 28.
Some members of council remained concerned that a two-month freeze could have a negative impact on potential projects currently in the works. After extensive debate, Councillor Barb Clumpus moved to defer the decision on implementing an interim control bylaw until the next meeting of council, however she could not find enough support on council to defer, and the resolution was approved in a narrow 4-3 vote with councillors Clumpus and McIntosh, along with Deputy Mayor Harley Greenfield voting against.
While any delay might be frustrating for a new business venture, Rob Mahy, a Meaford resident and co-founder of M.E.N.D (Mother Nature's Natural Design), a medical marijuana patient advocacy and educating collective, says that council and staff are doing what they need to do.
"They're intelligent, and they're on the ball, everybody is doing their job, but they're still behind the pace (adapting to the recently changed federal regulations surrounding medical marijuana production) at this point, and that's all it is," Mahy said of council and staff.
While Mahy said it would have been nice to have already implemented any required municipal policies in anticipation of revised federal legislation, he is pleased that the response from council on the issue has been positive, and he is confident that council and staff want to complete the study and implement policies as quickly as possible in order to allow potential projects to move forward.
"These guys have been doing everything that they can to put it all into place," offered Mahy.