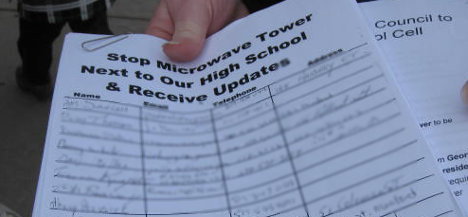 A group of residents concerned about a proposed cell tower near Meaford's high school have collected more than 700 signatures on a petition thus far in their campaign.
Organizers of the petition presented those first 700 signatures to Meaford Councillor Lynda Stephens on Friday April 11, and a presentation will also be made to Bruce-Grey-Owen Sound MP Larry Miller at his Owen Sound office today.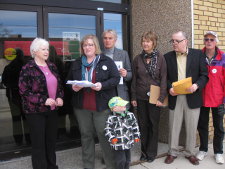 "We are presenting the 'Support Council to Move The Tower' petition to Councillor Lynda Stephens (Deputy Mayor Harley Greenfield had also been expected at the presentation but was unable to attend). An amazing 700 concerned Parents and Citizens signed the "Support Council to Move The Tower" petition," said Jenean Lush while presenting the petition. "We would like to thank the council for their leadership and wisdom, by unanimously voting and passing a motion to develop a Safe & Sane Cell Tower Placement policy."
Councillor Stephens, who seconded the resolution put forward by Deputy Mayor Harley Greenfield during council's last meeting, told reporters that while she is hopeful that a resolution to the tower placement issue can be realized, it may be too late for this particular proposal.
"I hope we can change the location, if we have a policy that will put us in a better position to be able to put things where they are less harmful for people. It's too bad we didn't think of it earlier, because I think it would have been better for prevention if we were doing it in a proactive way," said Stephens.
The issue was first brought before council on March 24 when Meaford resident Gough Lewis addressed council as spokesperson for a delegation, and asked councillors to consider the potential health effects that could result from placement of a microwave cell tower in a residential area on Edwin Street in close proximity to Georgian Bay Secondary School.
"With the new data coming out that demonstrates potentially devastating medical health issues, this is of great concern to our community. The placement of a microwave cell tower next to the school is clearly the worst location within our municipality, chosen by Simpson & McKay Financial Services, the sub-contractor for Rogers," Lewis told council. "Although this tower is proposed for a residential area, there has not been a proper notification nor a proper community consultation within the new federal guidelines for cell tower placement."
The Municipality of Meaford does not have a policy for the location of cell towers, and Lewis asked council to consider implementing a policy as soon as possible.
"We are aware that our municipality does not have a policy for cell tower placement under the new federal laws. We believe a policy on cell tower placement is of the utmost importance. I ask council to do two things. First, ensure that we develop a policy on cell tower placement within the Municipality of Meaford. Secondly, I ask council to ensure that our municipal staff require the developer of Rogers Site C4272, Meaford Town, to comply with the new federal policy and Meaford's future adopted policy. Please allow the public a chance to express their concerns on this important issue," Lewis asked of council.
After listening to the delegates, council responded quickly with a resolution at the ready. Council unanimously approved the following resolution:
Whereas Rogers Telecommunications has proposed the construction of a microwave type cell tower on a property known as 71 Edwin St. East, in the urban area of the Municipality of Meaford;
Whereas the municipality has been asked to comment upon the construction and placement of such towers;
Whereas the announcement of said proposed tower has brought forth many negative concerns about the location, from a widespread group of concerned citizens;
Whereas much information has been distributed through the media claiming that such towers can pose a variety of health risks;
Whereas electromagnetic radiation guidelines, including the level of transmissions from wireless towers are to be reviewed this year by Health Canada, with the potential of a reduction in the level of permitted emissions;
And whereas the Municipality of Meaford at present has no by-law policy on the subject of microwave cell tower placement .
Therefore, be it resolved that Council hereby instruct staff to research and establish a policy report for the placement of such towers within our municipality.
And that Council urge Health Canada to hasten its development and passage of planned new regulations for Safety Code 6 and distribute them to all municipalities.
And furthermore, that Industry Canada be informed that no official comment upon the construction of the Rogers tower on Edwin street be forwarded for a period of ninety days, or until the new cell tower policy is examined and passed, and request that Industry Canada restrain from making a decision on the tower proposal within that 90 day period.