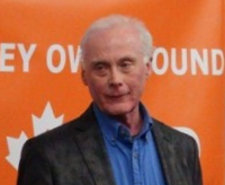 Last week New Democrats in the federal riding of Bruce-Grey-Owen Sound packed a meeting room in Owen Sound and nominated David McLaren to be their candidate in the upcoming election.
"David has demonstrated a clear understanding of the issues facing the people in his riding and is an excellent addition to our team as we fight to replace Stephen Harper's Conservatives," said NDP Leader Tom Mulcair.
McLaren's diverse experience includes work in government, the private sector, the arts, and with First Nations communities. He currently writes Forum articles for Sunmedia and was heard regularly on Bayshore Broadcasting CFOS as one of the "Wise Guys".
McLaren was selected after a campaign that included two other candidates. The NDP is the only of the three major parties to have actually elected a candidate in this riding. As Tommy Douglas once said, "The best way to protect democracy is to make it work."
"A lot of people in Bruce-Grey-Owen Sound are struggling in these difficult economic times," said McLaren. "This government – along with the previous Liberal governments - has a lot to answer for, not only for their inaction but also for many of their wrong-headed decisions that have actually made things worse. It's time to consider a new way of doing things and Tom Mulcair is the only leader with the experience and plan to replace Stephen Harper."