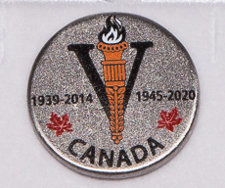 Recently, the Federal Government announced a new national tribute to mark the 75th anniversary of Canada's engagement in the Second World War; a limited-edition commemorative lapel pin and personal certificate of recognition will be available for Veterans of WWII.
Canadians who served at least one day with the Canadian Armed Forces or with any other Allied forces, including the Canadian or British Merchant Navy, either at home or abroad, during the Second World War and were living on September 10th, 2014 are eligible to receive this special tribute pin and certificate.
The design of the commemorative pin and the illustration on the certificate are based on the original "Victory Nickel" which features a flaming torch and a large 'V' standing both for victory and the coin's denomination. The coin was originally in circulation from 1943 to 1945, and was re-issued in 2005 to commemorate the 60th anniversary of Victory in Europe Day.
"This new commemorative lapel pin for Veterans of the Second World War will serve as a tribute to the brave members of the Canadian and Allied Forces and the sacrifice they made towards the eventual victory of the war," said Larry Miller, MP for Bruce-Grey-Owen Sound. "Any Veterans in Bruce and Grey Counties who are eligible to receive this pin and who would like more information on how to receive one can contact my office and we will be sure to assist you."
Meaford veterans who need assistance with filling out the forms for this pin can contact T. Crosby Mitchell at 519-538-1604, or by email at cmitchell@bmts.com
Request forms for the pin are available online at www.verterans.gc.ca, or by calling Veterans Affairs Canada (VAC) at 1-866-522-2122. Veterans will need to provide their service or regimental number when applying.