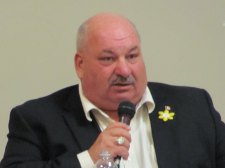 Bruce-Grey-Owen Sound Conservative member of parliament Larry Miller, has held onto his seat in parliament though he will now sit in the opposition to a majority Liberal government.
For Miller it is the beginning of his fifth term, but for his party it will be the beginning of a recovery from an election result that makes it clear that Canadians overwhelmingly voted for change.
Miller's primary rival, Liberal candidate Kimberley Love, earned 21,689 votes, enough for just 39 percent of the vote, while Miller, who in his 11 years in parliament has cemented a loyal base in the BGOS riding earned 26,267 votes, or 47 percent of the votes cast in the BGOS riding.
Miller, like his party leader, Prime Minister Stephen Harper fought of an "anyone but Miller" movement in the riding en route to his victory.
Nationally, the Liberal Party led by Justin Trudeau earned a majority government with 184 seats, while the Conservatives drop to 99 seats, the NDP fell to just 44 seats, with the Bloc winning 10 seats, and the Green Party one seat.