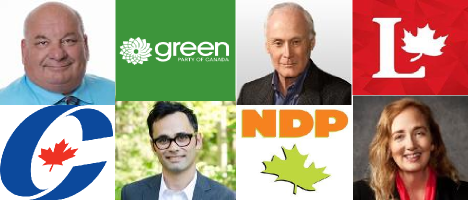 Meaford's Chamber of Commerce will host an all candidates meeting on Monday, October 5, from 7:00pm to 8:30pm at Woodford Hall.  Candidates from all four parties will be on hand to answer any of your questions and provide information.
Each candidate will be given the opportunity to introduce themselves and their parties' key platform issues. A 'speed dating' format will be organized following the opening remarks.
The room will be set up with four meeting areas and each candidate will be assigned a spot to begin meeting the constituents. After 10 minutes, the candidates will move to the next station and resume discussions with the people there. Once the candidates have made it around the room they will have the opportunity to make closing remarks to the entire audience.
Residents and candidates are welcome to mingle after the closing remarks are completed, until 8:30pm.
"Residents are encouraged to attend, listen, learn, and vote. Special thanks to the Municipality of Meaford for providing a venue for this important free event," said the Chamber.
Those unable to attend Monday's event are welcome to join the Meaford Chamber of Commerce and Owen Sound Chamber of Commerce at the Harry Lumley Bayshore on Thursday, October 1 st from 7:00pm to 9:00pm.
It is recommended that you arrive early as seating is limited. Doors open at 6:30 pm. This event is being recorded for multiple broadcasts by Rogers TV. It will also be broadcasted live on 560 CFOS.