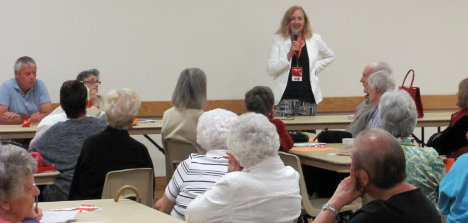 Federal Liberal Party candidate, Kimberley Love, was the second candidate to speak to Meaford's 55+ Club in advance of October's federal election. Incumbent Conservative candidate, Larry Miller, addressed the club on September 8, and NDP candidate David McLaren is scheduled to speak on October 6 at 2 pm.
Love, who is taking her second run at unseating incumbent Miller told the audience on September 22, that voters can count on a Liberal government to ensure that their caucus members can properly represent their ridings by allowing free votes.
"A lot of members of parliament now, have become simply proxies for the party, rather than voices of their community in Ottawa," Love told the audience. "When you constrain a member of parliament, you are shutting out Canadians from the business of government."
Love said that a Justin Trudeau government would allow their caucus members to vote freely on all issues outside of the budget – for which a vote is also an indicator of confidence in the government, and Liberal caucus members would also be expected to defend the Charter of Rights and Freedoms.
"Beyond that, my job would be to represent the constituents of this riding," said Love.
At the conclusion of her opening speech, Love took questions from the 55+ Club members. Healthcare was a prominent concern for the seniors' group, as was the protection of Canada's democracy and parliamentary procedure.
"The former Auditor General, Shelia Fraser, in making reference to Prime Minister Harper's omnibus bills, said that "parliament has become so undermined that it's almost unable to do the job people expect of it"," noted one club member, who asked Love about the first 100 days of a Liberal government with regard to fixing parliament. "So I'm wondering if there are two or three things that can be done to help bring back democracy."
Love said that while it will take some time to repair some aspects of democracy in Canada, there are also some things that can be done quickly.
"When we get together as Liberals, over the last several years we've talked about how much can be repaired in the first 100 days. There are some things we can deal with immediately, restore funding to the CBC, that's easy, that's quick. We can change the eligibility for pension from 67 back to 65, that's easy, that's quick," suggested Love.
Love told the audience that some of the Harper government legacy cannot be undone, such as the sale of the Canadian Wheat Board to foreign interests.
The candidate told the audience that as part of a Liberal government, she would seek to better inform Canadians about their food choices by advocating for the bolstering of labelling requirements for GMOs, and improving the criteria for consideration as organically grown.
Also on the minds of the 55+ Club members were issues like pension and income splitting. Love said that the Liberals support pension splitting as it can benefit a significant number of Canadians, but they oppose income splitting since the greatest benefit goes to the wealthy.
With less than a month until election day, Love left the audience with much to ponder before casting their ballots.
The final candidate to speak to the 55+ Club in Meaford will be NDP Candidate, David McLaren, on October 6 at 2 pm, at the Meaford & St. Vincent Community Centre.