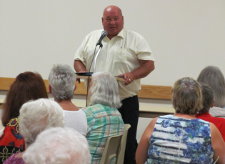 Incumbent Conservative candidate, Larry Miller, visited the 55+ Club on Tuesday (September 8) to kick off the club's series of talks by candidates in the upcoming federal election, and while the hope was that Miller would share his party's platform as it related to, and has an impact on seniors, Miller had little to share.
"I'm not going to bore you with any election speeches, I'm sure you've heard lots of them, but I was asked to speak about our election platform, and specifically issues for seniors," Miller told the audience of approximately 50 seniors in his opening remarks. "Now, our total election platform has not came [sic] out yet, as a number of parties haven't. So all I can talk about is what has been announced up until now, and also talk about some of the support that was in the budget this past spring for seniors."
Miller went on to read a laundry list of initiatives his party has undertaken in support of seniors, most of those initiatives were included in the budget passed by Miller's Conservative government just a few months ago.
Among the Conservative government initiatives for seniors (and many that had no impact on, or were of interest to seniors at all) highlighted by Miller were a recent tax saving program for seniors, a recently launched home accessibility program, changes to a tax free savings account program that was introduced by the Conservative government in 2009, and pension income splitting.
After speaking for 20 minutes, Miller took questions from the audience.
Audience members asked Miller about everything from the privatization of the Canadian Wheat Board to healthcare.
"You haven't discussed much about policies regarding healthcare," said one audience member before being interrupted by Miller.
"Why don't you ask me?" said a seemingly defensive Miller.
"I am going to ask you," said the audience member. "I'd like you to comment on anything that we need to know about your party's position on healthcare, and also, specifically, there is a growing number of people with rare illnesses that require very costly drugs, and I'm trying to figure out how we're going to help them. And how will your party deal with healthcare costs?"
"I'm not privy to the platform, but I do believe that there will be something on what you're talking about," Miller responded. "I don't know how it will be laid out, but it's very clear from the feedback I've got at my office the last few years that things like what you're talking about, and these unique drugs, they are very expensive."
Miller went on to explain the responsibilities of the federal government and the provinces with respect to healthcare, as well as his take on some recent healthcare history.
"I'm all for, and my party is all for supporting healthcare, but this blanket thing that was handed over in that 10 year health accord; in 2004 they (the provinces) had the former Prime Minister bent over a barrel, and they put the strap right to him. And there were some things in there that took control right from the federal government. But we honoured that, all the way through, and we still support increasing (healthcare)," offered Miller.
Miller went on to say that the healthcare system doesn't need more money, but rather the healthcare system needs to better spend the money it receives. Miller noted that the New Democrat Party has been suggesting that the Conservatives would reduce funding support for healthcare, however Miller says that there will actually be an increase in healthcare spending, though that increase will be less than had been originally planned.
"I've had professionals in healthcare, everything from nurses to doctors, to specialists, and they all tell me, 'Larry, we don't need more money, we need it spent better', so we're still going to have an increase in healthcare, it'll be around three percent," offered Miller.
Miller told the audience that he expects his Conservative party's election platform will be released in the next few weeks, as will the platforms for the other parties.
The next election candidate to take to the podium at the 55+ Club will be Liberal candidate Kimberley Love on September 22 at 2 pm, followed by the NDP Candidate, David McLaren on October 6 at 2 pm.