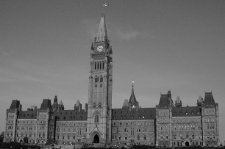 This week, Liberal Party of Canada Leader Justin Trudeau presented a new plan for real change that will create clean jobs, grow our economy, and protect our environment.
"Stephen Harper refused to take meaningful action on climate change, slashed environmental protections, and allowed other countries to take the lead on creating new clean jobs," stated Liberal candidate Kimberley Love. "Our Liberal plan will ensure that the people in Bruce Grey Owen Sound can tap into the vast economic opportunities of our environment and create the sustainable prosperity families deserve. I'd love to see a green technology hub in Bruce Grey that could create the stimulus for an emerging green economy here."
The Liberal plan will deliver real change for our environment by: taking action on climate change; investing in clean technologies; restoring credibility to environmental assessments; creating clean jobs and investment; preserving and promoting our National Parks; and protecting our wildlife and waterways. In the process, we will phase out fossil fuel subsidies, suspend admission fees to our National Parks for the 150th anniversary of Canadian Confederation for the full calendar year, ensure that we uphold our constitutional duty to consult and accommodate Indigenous Peoples on project reviews and assessments, and renew our commitment to the protection of the Great Lakes, the St. Lawrence River Basin, and the Lake Winnipeg Basin.
When asked for a comment, Meaford councillor, Jaden Calvert applauded the announcement.
"I am in alignment with the plan of the Liberal party of Canada to grow the Canadian economy and create clean jobs, while protecting the environment. As a councillor in the Municipality of Meaford, I am garnering support for a municipal declaration that recognizes everybody's right to live in a healthy environment. The plan of the Liberal Party of Canada for Canada's environment and economy demonstrates a commitment to upholding these rights," offered Calvert.

"The environment has suffered greatly during the Harper decade. As Canadians, we cannot afford to let this inaction continue – the cost is too high," Kimberley Love concluded. "A Liberal government is committed to undoing the damage done by Harper, and giving to our children and our grandchildren a country even more beautiful and prosperous than the one we have today. Today's announcement is actually visionary for Canada."