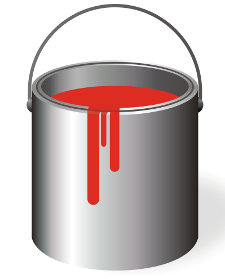 On Sunday, May 31, 2015, at approximately 9:30 p.m., Grey County Ontario Provincial Police (OPP) investigated a mischief report after a motorist had driven his vehicle through fresh red paint on Grey Rd. 18 in the Municipality of Meaford.
Sometime between 8:00 p.m. and 9:30 p.m. a large glass jar containing red paint was thrown on the crest of a hill, in the eastbound lane of Grey Rd. 18, approximately 1.7 km east of Rockford.
The Grey County Roads Department attended and cleaned the area to prevent further damage to vehicles.
Since 2013, there have been a total of 10 incidents of paint deposited on Grey Rd. 18 between Rockford and Grey Rd. 29; three of which were at the same location as that of Sunday night's incident.
These acts of mischief are planned and deliberate.  Grey County OPP ask that anyone with information which may assist in identifying the person(s) responsible, contact the OPP at 1-888-310-1122.
Should you wish to remain anonymous, you may call Crime Stoppers at 1-800-222-8477 (TIPS) or submit a Web Tip to www.crimestop-gb.org.  You may be eligible to receive a cash reward of up to $2,000.