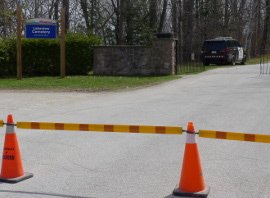 On Thursday evening (May 7), Grey County OPP issued an update on their search for 25 year old Emerson Sprung, a Meaford man who has been missing since leaving his Trowbridge Street West home on Saturday night (May 2).
In the update police report that human remains have been found, and that they have a person in custody.
"On May 6, 2020, the OPP Canine Unit located human remains. A post-mortem examination will be conducted to determine the identity of the human remains and cause of death. One person has been arrested and remains in police custody at this time," the OPP reported in their update.
Police have not released the name of the person arrested, or the charges they face.
On May 3, Grey Bruce Ontario Provincial Police (OPP) received a report of a missing person. The 25-year-old male was last seen on May 2, at 9:00 p.m. leaving the family residence at Trowbridge Street West in Meaford on his BMX bicycle.
The search for Emerson has focused on the areas of Memorial Park, and the Lakeview Cemetery, and several OPP vehicles had been stationed at both locations during the week.
"The investigation remains ongoing with members of the Grey Bruce OPP Detachment, OPP Forensic Identification Services, and OPP Emergency Response Team under the direction of the OPP Criminal Investigation Branch. More information will be released as it becomes available," said police.
Anyone with information involving the ongoing investigation is asked to contact Grey Bruce OPP, 1-888-310-1122. Should you wish to remain anonymous, call Crime Stoppers at 1-800-222-8477 (TIPS) or submit a secure web-tip at www.cstip.ca, where you may be eligible to receive a cash reward of up to $2,000.