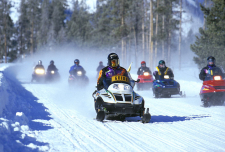 On Thursday, January 2, 2014, Grey County Ontario Provincial Police (OPP) conducted motorized snow vehicle patrols on Ontario Federation of Snowmobile Club (OFSC) Trails in the Municipality of Meaford and the Township of Chatsworth.
As a result, 15 snowmobiles were checked, in which 1 charge and 4 warnings were issued under the Motorized Snow Vehicles Act (MSVA) as well as a warning under the Trespass to Property Act (TPA).
Grey County OPP remind snowmobilers that their safety, peace of mind and enjoyment while sledding this winter, start with being compliant with the MSVA and being properly trained.
Many of the rules governing motor vehicle drivers apply to snowmobile operators, such as speeding, failing to stop at a road crossing and driving with a Blood Alcohol Concentration (BAC) that exceeds the legal limit. Failure to comply with the law carries penalties including fines, loss of driver's licence, criminal charges and/or imprisonment.
A rider whose BAC is between 0.05 and 0.08 (known as the "Warn Range"), can be issued the same 3-day warning that suspends a driver's licence on the road. This means that on the snow, the offending rider can no longer drive his/her sled to complete their ride. Riders are reminded that the Ontario Zero Tolerance law for drivers 21 and under also applies to snowmobiles.
To ride legally, snowmobile operators must always carry:
Valid driver's licence (or if under age 16, a Snow Vehicle Operator's Licence)
Proof of snowmobile ownership
Sled registration (including properly placed registration numbers and validation sticker on sled)
Proof of sled insurance (pink slip)
Approved snowmobile helmet (for each rider)
While snowmobiling for recreation on an OFSC Prescribed Trail, a 2014 Snowmobile Trail Permit (properly displayed on the sled) with permit receipt.
Grey County OPP encourage snowmobilers to get properly trained. The OFSC offers courses approved by the Ministry of Transportation of Ontario (MTO): OFSC Learn the Right Way is a course for snowmobilers aged 12 years and older. For more information about available courses visit www.ofsc.on.ca.
The OPP is committed to saving lives on Ontario's highways, trails and waterways through the reduction of preventable injury and death. Initiatives are developed and delivered through the Provincial Traffic Safety Program. Visit opp.ca for more information.