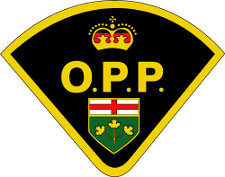 It was a busy long weekend for the Ontario Provincial Police (OPP) as they stepped up enforcement across the province on roads, waterways and trails. On roads, the OPP was counting on motorists to comply with the Move Over law and they also looked for aggressive drivers, impaired drivers, those in violations of seat belt laws and motorists who drove while distracted.
Over the weekend, the OPP reported one fatality on roads and another fatality in a marine incident. According to OPP Commissioner Chris Lewis, the 2013 Civic Holiday long weekend saw the lowest number of fatalities in areas under OPP jurisdiction in almost 20 years.
"I believe the public did an excellent job cooperating with our officers to keep the long weekend safe for everyone," said Lewis. "I am extremely pleased to see the Civic Holiday long weekend end with the lowest fatality rate since 1995 and I encourage drivers, boaters and trail users to keep this positive trend up so that we can have one of the lowest fatality rates on record for the entire year," he added.
Despite the low fatality rate, the OPP laid numerous charges for various offences over the weekend. These include 290 charges for not obeying the Move Over law, 6,052 charges for speeding, 83street racing charges, 375 seat belt charges, 96charges for driving while impaired by drugs or having a Blood Alcohol Content (BAC) above 0.08, and 233distracted driving charges. The OPP also issued 91roadside license suspensions to drivers with a BAC in the Warn Range of 0.05 to 0.08.
Locally, Grey County Ontario Provincial Police (OPP) received 152 calls for service between 12:00 p.m. Friday, August 2nd and 12:00 a.m. Tuesday, August 6th. Of those calls, 22 traffic complaints, 14 motor vehicle collisions, three liquor related occurrences and one impaired driving occurrence were investigated.