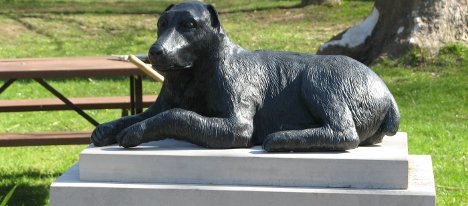 Grey County Ontario Provincial Police (OPP) are investigating a mischief incident in the hopes of identifying the person or persons responsible for vandalizing several memorial plaques in Beautiful Joe Park during the Victoria Day long weekend, May 16 – May 19.
On Monday, May 19, 2014, Grey County OPP was notified after a park caretaker discovered the damage in the park, located on Edwin St., W., Meaford, in the Municipality of Meaford.
A total of 31; 5" x 10" engraved metal plaques were defaced by the vandal(s) by placing an X through each of the plaques using a sharp object. Each plaque is dedicated in memory of an individual's deceased pet.
The damage is estimated at $4850.
Anyone with information is asked to contact the OPP at 1-888-310-1122.
Should you wish to remain anonymous, you may call Crime Stoppers at 1-800-222-8477 (TIPS) or submit a Web Tip to www.crimestop-gb.org. You may be eligible to receive a cash reward of up to $2,000.