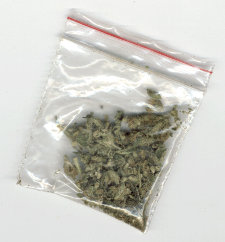 On Saturday, May 10, at approximately 1:55 a.m., Grey County Ontario Provincial Police (OPP) were conducting a R.I.D.E. spot check at Grey Rd. 15 and Princes St., Leith, in the Municipality of Meaford.
A 1998 Nissan vehicle had stopped and the driver of the vehicle had been found to be smoking marijuana. The driver handed the officer a glass pipe containing a green leafy substance, indicating he had more inside the vehicle which was turned over to police.
The 29 year old Owen Sound man was arrested and charged with possession of cannabis marijuana – under 30 grams, contrary to the Controlled Drugs and Substances Act.
He is scheduled to appear in Court in Owen Sound on Thursday, June 19, 2014.