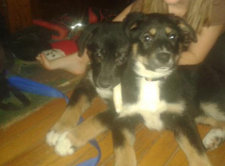 Grey County OPP received a report on Friday April 25 of two puppies believed to have been stolen from a Boucher St. W. home in Meaford on Friday, April 25.
The 2 ½ month old, Rottweiler-Samoyed cross puppies, had been fastened to a large tree in the victim's front yard by their leashes, which were black and blue respectively. They were wearing turquoise and pink collars.
Sometime between 10:30 a.m. and 10:45 a.m. on April 25, the puppies went missing. They may have broken free, however, it is believed that they were taken by unknown person(s). The puppies were valued at $500 each.
Anyone with information regarding which may assist is asked to contact the OPP at 1-888-310-1122.
Should you wish to remain anonymous, you may call Crime Stoppers at 1-800-222-8477 (TIPS) or submit a Web Tip to www.crimestop-gb.org. You may be eligible to receive a cash reward of up to $2,000.