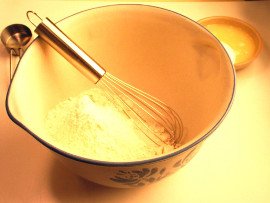 Big Brothers Big Sisters Grey Bruce is asking people to put on their baking hats and tie on their aprons to get ready for Bake for Kids' Sake, coming Monday, December 7. This virtual fundraiser is in support of BBBSGB and the many youth served all year in our community.
In a pandemic, more time is spent at home. BBBS is giving people an opportunity to be inventive, have some fun, and be named the 'Creative Genius'.
BBBSGB is extending the challenge to Bake for Kids' Sake by baking a home for the holidays themed edible house or cookie (plate of 8 or 1 big cookie). Anything edible goes in the house category (for example a celery house). Creations can be made from scratch or with the help of a kit or mix.
There are categories for everyone: under 16, 16 and older, and professional. In the professional category, food businesses, professional bakers, and chefs can compete for the Creative Genius award.
Participants can register at greybruce.bigbrothersbigsisters.ca/donate/ and pay a fee of $25 to compete in the virtual challenge. More details will be found on the registration page.
Creations can be submitted to BBBSGB by 12 noon on December 7. Photos and videos will be uploaded on BBBSGB's Facebook page, where the public can start voting for their favourite creation. On December 15 , the top five creations from each category will be announced live on the BBBSGB Facebook page. The top five contestants from each category will be judged by well-known community members. Final winners will be announced on December 17.
Like many organizations facing the obstacles of COVID-19, BBBSGB has adapted fundraising events to a virtual platform, following government guidelines and ensuring public safety. During this time, more than ever, mentoring programs are vital to the mental health of our youth. Community participation in Bake for Kid's Sake will help BBBS to continue to support local youth.