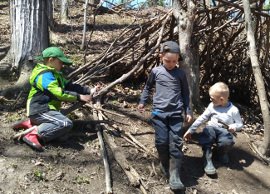 With the rising demand for alternative, nature-connection programs, Free Spirit Forest and Nature School (FSFNS) is excited to announce that it has expanded, in an effort to get even more kids outside and give them the chance to connect with themselves, others, and nature in a meaningful way.
Kim Simpson, one of the founders and directors of the not-for-profit FSFNS is excited about the added student spots.
"Deep Nature-connection is more important than ever these days and we want to see all children outside in local forests with a skilled mentor who understands the power of play and child-directed, emergent-learning." Simpson said. "I'm excited to be able to offer this type of programming in the town where I live."
FSFNS calls Memorial Park home with its 30 acres of picturesque park and woodland walking trails. Even more, this wonderful green space runs along the shoreline of beautiful Georgian Bay. Students spend the majority of the day outside, immersed in nature regardless of the weather or the season, where learning is unhurried. They have small student-to-teacher ratios, with a curriculum that is largely emergent, student-led and play-based.
Since arriving in Meaford in 2018, the program has grown significantly. "We started with five students in my backyard," said Simpson, "and with the support of the Town, Meaford Kinsmen, and Meaford Chamber of Commerce, we have grown to employ three local teachers and now work with over 30 families in the area!"
Programs run Wednesdays and Fridays, where students join one day a week. Classes began the week of September 14, and run all year long. For more information or to register please visit www.fsforestschool.com.
Free Spirit Forest and Nature School is a not-for-profit community-based program that provides outdoor educational and experiential programs for children aged 18m-12+, where students join programming one day a week. Its roots began in 2016 in Collingwood and has grown to also have schools in Meaford, Wasaga Beach, and Duntroon.