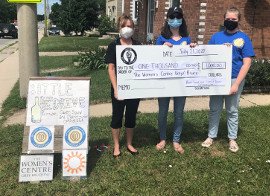 The Sydenham and District Optimist Club started 2020 with their usual optimism. They had been serving youth in the Owen Sound and Meaford areas for just over 20 years, donating to numerous youth-centred causes, organizing family focused events, and fundraising to support these efforts.
They were making plans for a paint party fundraiser, collecting items for their annual yard sale, and looking forward to the Annan/Leith Canada Day fireworks and family activities for upwards of 400 people. They expected to be sponsoring a local soccer team as they previously had, and to arrange for local students to 'Shop with a Cop' at Zehrs and donate to local food banks. 2020 was looking like an exceptional year, as they had organized a group of 16 young people to form the area's first Junior Optimist Club. They were also planning their biggest single project yet, an accessible children's playground.
But in March of 2020, a pandemic was declared. The early reaction from club members was to cancel club meetings and to delay fundraisers and events. Everything seemed to be put on hold. It was the group of yet to be formally organized Junior Optimists that first suggested having a Zoom meeting for their club. This led to a group of 16 amazing young people, aged 10-14, to be officially chartered in a Zoom meeting in April as the Owen Sound and District Junior Optimist International (OSD JOI) Club. They have remained active ever since, and their resilience has inspired the adult club to find new ways to continue their work in the community.
During their first month, the OSD JOI Club initiated their incredibly successful bottle drive on Bayshore Road, just north of Leith, with funds directed to the playground project. Original hopes of raising $1,000 in a month or so have developed into an ongoing bottle drive supported by an incredibly generous neighbourhood who have donated close to $4,000 in bottles and cans.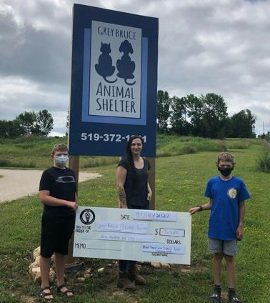 The OSD JOI Club voted on other community causes to support, in addition to the playground bottle drive. This led to a separate bottle drive fundraiser in Owen Sound to benefit the Women's Shelter of Grey-Bruce, resulting in a $1,000 donation. An online plant sale started in May as a general fundraiser for the OSD JOI Club, and then June funds were directed to the Grey Bruce Animal Shelter, resulting in a $360 donation. Junior members researched these causes and proudly presented cheques to their chosen charities.
The newly formed OSD JOI Club also inspired their sponsoring adult Sydenham and District Optimist Club to start having Zoom meetings. As a result, the playground plans were able to progress. Details were worked out with Grey Sauble Conservation Authority to locate an 'Optimist Playground' at the Hibou Conservation Area. A playground design was chosen to be installed in the spring of 2021. In the absence of traditional fundraising events, a club member happened upon Uncle Dad's Pizza, a locally sourced London, Ontario-based business that normally sells their products at farmers' markets in our area. This satisfied customer had a conversation with the pizza provider about the Junior and Adult Optimist Clubs, which led to the company offering support well beyond a traditional fundraiser. Over $1,500 was raised in one month, and plans are in place to do this again in the fall. This kind of generosity has been a theme since the start of the pandemic.
After 20 years of serving youth, the adult Optimist Club realized that youth can provide inspiration in a new way, through the formation of a Junior Optimist Club. The bottle drive continues on Bayshore Road, now with the Junior and Adult clubs working together to advertise, organize, and return donations. Local businesses and individuals are now being sought to contribute to the $60,000 playground project, and significant donors will be recognized on a permanent sign at the new playground.
Both clubs continue to contribute to local causes in new creative ways during this pandemic. We also welcome new members to our clubs at a time when all contributions are valued more than ever.
For more information, please contact Club President Eileen, eillynn@gbtel.ca, or President Elect Katie, at owensoundjoi@gmail.com.