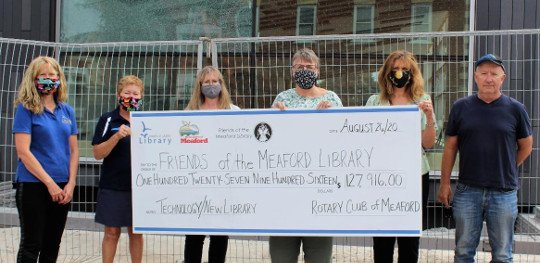 The Meaford Public Library has announced that the Rotary Club of Meaford has generously donated more than $127,000 for the new, accessible library.
The Rotary's contribution is as follows:
$62,000, earmarked for technology in the Teen Project Room;

$50,000, which grants the Rotary Club naming rights for the Teen Project Room, and

$15,000 in funds from the Club's two Trivia Night fundraisers.
The technology portion of the donation will allow the library to offer new and emerging tech options such as hot-spots, podcasting equipment, new MacBook Pro laptops, and much more.
"Thank you to the Rotary Club of Meaford for this amazing contribution to our new library!" said library staff.
Photo: At the Rotary cheque presentation are from left: Sonja Glass, Joanne Clement, Lori Pierce, Elaine Burns, Lynne Fascinato, and Peter Bantock.