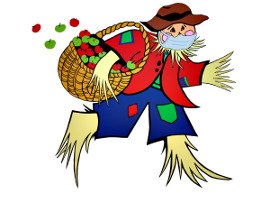 September has always been a special time of the year in Meaford, that time of year when hundreds of scarecrows appear seemingly out of nowhere to herald in the end of summer and the beginning of the fall season. For more than 20 years, scarecrows have brought people together, brightened our days, and brought smiles to everyone's faces.
The decision to cancel this year's Meaford Scarecrow Invasion and Family Festival was made in early April, according to Donna Earl, Chair of the Meaford Scarecrow Invasion and Family Festival. "It was not an easy decision to make," she said. "However, in light of how the COVID-19 pandemic has played out and continues to impact us, it was the right decision.
"In truth, hundreds of scarecrows don't simply appear. They require hundreds of hours of volunteer time beginning in May, even sooner for those dedicated committee members who plan the event, collect and organize supplies, and recruit volunteers for the building workshops, parade, and family festival.
"The scarecrow invasion draws people together in ways that are just not feasible during the pandemic. Gatherings are neither safe, nor advisable. The event was cancelled to protect the health and safety of not only our volunteers, but also all of our community members.
"There is always next year. Already the executive is working on plans for a spectacular return of this very important special community event. Hopefully COVID-19 will be behind us and we will be able to get back to what Meaford does so well in bringing the community together."