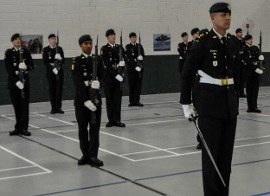 Infantry Developmental Period 1 candidates, conducted the first badging and graduation ceremony on July 31, 2020 at the 4th Canadian Division Training Centre (4 CDTC) in the resumption of Infantry training.
Since the resumption of military training at 4 CDTC, candidates have been in a cohort together with their staff, and isolated to the base. Extensive preventative health measures are in place ensuring a safe training environment. Graduating ceremonies conducted on base have been revised to meet preventative health measures. For example, candidates are spaced 2 metres apart, family members are currently not permitted to attend, and regimental badges are touched solely by the receiving candidate.
According to Lieutenant Colonel David Fearon, Commanding Officer of the 4th Canadian Division Training Centre, this change in ceremony format is among several changes necessary to resume operations while the risk of contracting COVID-19 is still assessed as 'high.' "With the health and safety of our course candidates as our top priority during this pandemic," he said, "we have adjusted our normal ceremonial standards so that the soldiers can still share this milestone experience."
Lieutenant Jason Gresel, the unit's Public Affairs Officer, explained that "as a training facility for both the Regular and the Reserve Force, soldiers come to 4 CDTC Meaford from all over Ontario. On average 4 CDTC has over 600 soldiers in training on any given week, but that number has been dramatically reduced in light of COVID-19."
Photo:
Infantry Developmental Period 1 candidates present arms during a badging and graduation ceremony held at the 4 Canadian Division Training Centre in Meaford on July 31, 2020.
Photo credit: Unit Photographer Cpl Saint-Ivany, 4 CDTC