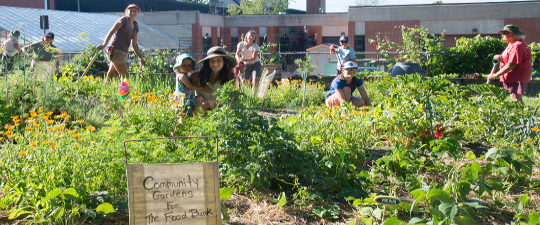 It's been a struggle, but produce from the Meaford Community Gardens is reaching the right people, and the Golden Town Outreach Food Bank continues to meet a need in the municipality.
Golden Town Outreach is a not-for-profit organization that provides assistance to people in need, in the form of emergency food, clothing, and/or shelter. In normal times, the Golden Town Outreach would be holding cooking classes at Victoria Village and weekly community cafes at the Church of Nazarene, and would be welcoming people into the food bank. Due to COVID-19, the cooking class and weekly cafes have been cancelled. Staff, volunteers, and directors have had to devise alternative ways to distribute produce, dried goods, and other items to people in need, according to Golden Town Outreach President Nellie Greb.
"We have had a dedicated small group of volunteers who have safely provided fresh and dried goods to our clients. We continue to be open Monday morning 9:30-11:30 and Thursday evening 5:30-7:30," she said. "Our coordinator and three to four volunteers enter the building each shift. We greet clients at our doorway and pass along their groceries. Many other volunteers are on hold at this point."
Not all alternate arrangements have been a hardship, according to community garden lead volunteer Mary Bryant.
"When the Meaford Community Gardens produce became available, we set up our vegetable stand outside the food bank doors rather than inside the food bank," she said. " We encouraged everyone to take our fresh produce as they needed along with the food provided by the food bank."
The cooking classes have in the past allowed community gardens co-ordinator Simona Freibergova and volunteers to promote good nutritious food by teaching young people how to prepare and serve fresh produce. Without the cooking classes, they have opted to man the food bank tables and sharing cooking tips.
"A caring community of volunteer gardeners has enjoyed this opportunity to be more directly involved with our community and those in need," Bryant said, "and to share our enthusiasm for fresh locally grown food."
The community gardens got off to a slow start due to COVID-19. The gardens were classified as a recreational use and thus subject to complete lockdown. "The Ontario Community Growing Network successfully lobbied our provincial government to consider gardens as essential services," Bryant said. "During Stage 1, we were restricted to five people in our gardens at any one time. This included our garden team that planted, weeded, watered, and harvested our food bank gardens, as well as the volunteers' own gardens. The number of people allowed increased to ten in Stage 2. Our gardens occupy a large space and it was not a challenge to welcome more gardeners while safely distancing as well as adhering to all other COVID-19 concerns."
Stage 3 will allow for more participation at the gardens.
"In Stage 3, we are allowed up to 50 people so we could easily accommodate our approximately 25 gardeners and volunteers safely distanced if need be," noted Bryant.
Golden Town Outreach has been encouraged by Feed Ontario, a provincial association of food banks and their partners, to prepare for the upcoming months, according to Greb. "The belief is that the needs for food support are going to increase as COVID funding decreases," she said. "To enable us to store increased inventory, we have purchased two additional freezers. These will enable us to take advantage of additional food offered. We are also in the process of installing additional shelving to accommodate the extra food donations that we are receiving."
Photo: Volunteers gather three times a week to maintain the Golden Town Outreach community gardens and harvest produce for the food bank. The gardens were initially classified as recreational use during the COVID-19 lockdown but were reclassified as an essential service, allowing co-ordinator Simona Freibergova and a limited number of community volunteers to enter the gardens to plant and grow produce. Above: Mary Bryant, Simona Freibergova, Charley Baxter, Rachel Gorman and her daughter May, Linda Bertrand, Marilyn Jones, and Ashley Walker.