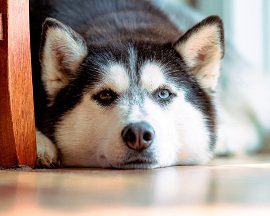 With Stage 3 of the provincial reopening plan well underway, many of us are making preparations to return to the workplace. This means major changes to our pet's daily routines after months of having their favourite people around all the time. For many dogs, these new changes in routine may lead to stress, anxiety, and behavioural problems.
As far as our dogs are concerned, it may seem like an easy transition to revert to something resembling a pre-pandemic routine, and for many, it is. But the reality is many canines will have a challenging time adjusting to the sudden change in routine when their people go back to work. However, the severity of this effect can be mitigated if the right steps are taken ahead of time.
You know your dog better than anyone, and are the best to gauge how sensitive they are to changes in routine. As we all have spent a greater amount of time at home over the past few months, our dogs have certainly been enjoying the extra time together. More frequent (and longer) walks, extra cuddles, and other forms of mental and physical stimulation have become their 'new normal'. Now, with things changing yet again, these luxuries aren't so easily taken away without affecting a dog's psyche.
The Impact of Sudden Change
With sensitive dogs, a gradual transition is essential in helping them adjust to new routines. Sudden changes, like going back to work after months of being home, can be hard on a dog's mental health, especially if they are going to be spending a fair amount of time alone. This can trigger an array of behavioural problems, specifically stress and anxiety.
Dogs are social pack animals, and generally do not like being on their own for long. Pandemic or not, isolation anxiety and separation anxiety are among the most common behavioural problems in dogs left at home alone. Destructive behaviour, excessive vocalizing (barking, whining), profuse salivation and panting, pacing, and defecating in the home are all behaviours conducive with anxiety in dogs. Curbing these anxiety-driven behaviours can be a challenge to overcome, however, with some patience and care, it can be a manageable condition.
Many pet owners struggle with finding solutions to their dog's behavioural problems. Hiring a dog trainer well versed in anxiety-related behaviours will help create a long-term plan of action to reduce stress and anxiety, leading to a more mentally balanced dog.
Make a Plan for Care
For dogs who may be spending a fair amount of time alone while their owners are at work, consider the many pet care services at your disposal. Dog walkers and doggy daycare services provide companionship and mental and physical enrichment, ultimately resulting in a content canine.
Even something as simple as having a friend or neighbour walk your dog in the middle of the day will provide some much needed stress relief.
Enrichment in the Home
From a dog's perspective, waiting all day for their people to come home from work with nothing makes for a dreary life. Without the right stimulation at home, what is there for a dog to do but wait?
To remedy the daily monotony of waiting, there are many ways you can provide quality enrichment at home - it simply takes a little bit of creativity and experimentation.
Frozen enrichment toys stuffed with food/treats are durable, reusable, and will hold your dog's interest for a long time. Peanut butter, wet dog food, and leftovers all make for tasty toy stuffers too.

Scavenger hunt. Before you leave the house, hide a bunch of super tasty treats all over the house. Use your imagination, and make it challenging!
Quality Time
Make the most of the time you and your dog have together. Keep going for long walks, have those extra snuggles on the sofa, and reinforce with your dog that no matter how long you are away from the home, you will always make it up by spending meaningful time together regardless.
Adjusting to new routines can be difficult at times, even for the best of us. When it comes to helping our favourite four-legged family members acclimatize, all it takes it a little bit of advanced preparation.
Have fun and stay safe!
Brandon Forder, known as The Pet Expert, is vice-president of Canadian Pet Connection, an industry leader in healthy pet lifestyles. Brandon holds multiple certifications in pet nutrition, and has more than twenty-five years' experience specializing in pet health and behaviour. He has written hundreds of informative pet-related articles for newspapers, magazines, radio, and the popular Ask the Pet Expert Blog. Brandon is highly skilled in pet problem solving, and enjoys teaching others about smart and responsible pet ownership. To learn more, visit www.CanadianPetConnection.ca.