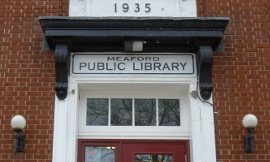 The Meaford Public Library has been given the green light to reopen during the ongoing COVID-19 pandemic. The library will reopen on August 4 with reduced hours and several changes in procedures.
Hours will be Monday to Thursday 10 a.m. to 3 p.m. and Friday 10 a.m. to 6 p.m. Patrons who do not want to enter the building can continue to order books online and request curbside pick-up outside during these hours.
The number of patrons in the building at one time will be limited to a maximum of five patrons or family groups. A family group is limited to three. All patrons must wear a mask.
Patrons are asked to continue to return books through the front door drop box whether the library is open or not, according to Lynne Fascinato, Acting CEO.
"All library items that are circulated, returned, or accessed within the library will be disinfected and/or quarantined before being recirculated or re-shelved," she said. "At re-opening, there will be a limited number of public computers available with time limits. Users will be able to use our printing, faxing, and scanning services. Browsing of the stacks will be allowed but of course patrons will be limited and social distancing will be required. There will be no children's toys or newspapers for patrons at re-opening as these are hard to disinfect.
"We have standard safety protocols in place for staff and the public. Staff has been well trained in the health and safety protocols needed to open to the public, and we will install signage in the building to reinforce these rules," noted Fascinato.
All part-time staff and full-time staff will be back to their regular weekly hours around the August 4 time-frame.
"Some staff were working remotely from home; others have worked in-house or a combination of both, especially for our curbside service which started on May 20 under Phase 2," Fascinato said. "All our programming went virtual and we ramped up our social media presence. Staff and the library board met weekly and when needed on Zoom. It was important for all staff to remain in communication with each other so Zoom and email was very important. Staff also took the opportunity to engage in online learning opportunities from home as well during the closure."
Staff has been able to offer some programs throughout, programs such as the TD Summer Reading Club, the virtual story tent, crafts, Amazing Reads Canada, and trivia and social media challenges. The annual Views of Meaford Contest will be launched on August 4.