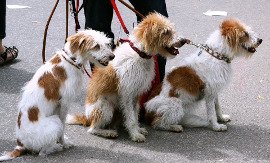 With the impact brought on by COVID-19, it's no surprise that the global tourism industry has been hit hard. Largely a tourist town, Meaford is no exception, leaving many local businesses in serious peril.
Not only is Meaford a tourist destination for thousands of out-of-towners every year, we are also a proud pet-friendly certified community. Considering our small population, Meaford has a very strong pet industry presence, and every year pet owners come from far and wide to celebrate their love of pets through a series of festivals and events in Grey Bruce. To the disappointment of many, virtually all pet-related events have been understandably cancelled for the 2020 season.
Pet-related events attract a significant number of tourists to our lovely community, supporting local businesses of all types. Additionally, these events raise awareness and much needed funds for local animal rescues, shelters, and non-profit charities in our area. Many pet-related organizations exist entirely on donations and volunteers; the cancellations of pet events will ultimately have a major negative impact on their ability to operate.
Meaford's largest pet festival, the 3rd Annual Meaford Pet Expo, was scheduled for July 18, and has been postponed until 2021. The Meaford Pet Expo attracts thousands of pet-loving visitors, and focuses heavily on supporting local pet service and product providers, like rescues and shelters, dog walkers and sitters, breeders, manufacturers, and more.
The Beautiful Joe Heritage Society cancelled their annual Old Fashioned Family Fun Day, as well as the well-loved, end-of-summer Pooch Pool Party. Currently, BJHS is considering their options for an event this fall (if the pandemic permits) so stay tuned for more information.
The Georgian Triangle Humane Society has cancelled a large number of 2020 events, including the swanky FurBall Gala and their massively popular Annual Walkathon. Thankfully, the GTHS Walkathon Your Way will be held as a digital event from August 5 - 12. Participants are challenged to get creative during this Walkathon Week; the more active the better! The GTHS Walkathon Your Way supports their numerous programs and services, like sheltering and adoptions, humane education, spay/neuter services, and more.
Originally scheduled for Saturday, August 8, The Tails of The Mountain festival has also cancelled what would have been their second annual event. Located on a beautiful and spacious property in Grey Highlands, TOTM features a collection of local and non-local vendors, as well as a large doggy play zone and many other fun activities.
A plethora of pet-related events, including charity barbeques, adopt-a-thons, and other fundraisers have been cancelled across the county. This leaves a gaping hole in the fundraising efforts of volunteers and coordinators, who still have to care for pets in need, including veterinary care, food, shelter, and more.
"The greatness of a community is most accurately measured by the compassionate actions of its members." – Coretta Scott King
Supporting pet rescues and organizations in our community is more important now than ever. To help them get through what will surely be a difficult year, I wholeheartedly encourage you to reach out in an effort to provide donations of food, supplies, money, and volunteer hours.
Brandon Forder, known as The Pet Expert, is vice-president of Canadian Pet Connection, an industry leader in healthy pet lifestyles. Brandon holds multiple certifications in pet nutrition, and has more than twenty-five years' experience specializing in pet health and behaviour. He has written hundreds of informative pet-related articles for newspapers, magazines, radio, and the popular Ask the Pet Expert Blog. Brandon is highly skilled in pet problem solving, and enjoys teaching others about smart and responsible pet ownership. To learn more, visit www.CanadianPetConnection.ca