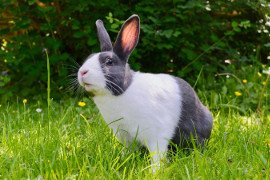 Over the past several weeks, an alarming trend has begun in the Meaford area. Domesticated animals are being dumped: set free to fend for themselves. In addition to kittens, which is sadly still a problem in our rural areas, rats, bunnies, and other domesticated small pets are being released into our community. These pets are commonly being released in rural areas, on farms and large properties.
No one knows exactly why this has recently become a more problematic issue, but it is suspected the state of the economy may have a role to play. Thanks to COVID-19, many Canadians have lost their jobs, and are struggling to make ends meet. Pets require food and other products, as well as vet care, to keep them healthy. Pet-related expenses can add up, and can sometimes overwhelm a tight budget.
Sometimes pet owners dump their animals because they're moving, and are unable to take pets with them to their new home. Another reason why pets get dumped is because their owners lose interest in them. Unfortunately, reasons like these are more common than you might think.
Can domesticated pets survive in the wild?
Unfortunately, the answer to this is almost always a big 'no'. Domesticated animals, especially bunnies, rats, hamsters, guinea pigs, ferrets, and other small pets, lack the necessary skills to survive on their own. They don' t typically know how to fight off, or hide from, predators. This leaves them open to being easy prey to coyotes, raccoons, foxes, and other predators.
Domesticated pets are not very good at finding food. They are provided with food and water every day, and have never had to forage or hunt for nourishment. If they happen to evade predators long enough, they will likely starve to death.
Lastly, domesticated pets don't survive the elements very well. Many of our favourite household pets are not native species, and aren't capable of handling big changes in temperature. Because they've lived their whole lives in an indoor climate-controlled environment, changes in temperature can be a shock. Heat waves or frigid temperatures can cause a slow and painful death for vulnerable small animals.
Another important consideration is that many domesticated pets can wreak havoc on delicate wild ecosystems. They may become invasive by destroying plant life, animal species, and more.
What to do if you can't keep a pet?
With all of today's options for rehoming an unwanted pet, it's difficult to understand why people still dump their pets. From the Humane Society to the many independent animal rescues and shelters, there are organizations that specialize in re-homing pets.
You can talk to friends and family if you can no longer care for your pet. Oftentimes, a loved one will be delighted to welcome a new pet into their home, especially if it means helping someone they care about.
While you have to use extreme caution when re-homing a pet online, Kijiji, online forums, and social media are popular tools. Many people prefer re-homing a pet over Facebook because they can pre-screen using applicants' profiles before meeting in person.
With that said, most people do not want to say goodbye to their pets - they simply cannot afford the cost of care. If you're struggling to provide for your pets during COVID-19, or any other time, please know there is help available in Meaford and surrounding areas. Canadian Pet Connection has proudly teamed up with Golden Town Outreach and the Georgian Triangle Humane Society to provide pet food donations for those in need in our community.
For more information on Golden Town Outreach's support initiatives please call 519-538-4550 or email goldentownoutreach@gmail.com. Alternately, talk to a representative at the Georgian Triangle Humane Society about the Pet Pantry program, or visit https://www.gths.ca/pet-pantry/.
Brandon Forder, known as The Pet Expert, is vice-president of Canadian Pet Connection, an industry leader in healthy pet lifestyles. Brandon holds multiple certifications in pet nutrition, and has more than twenty-five years' experience specializing in pet health and behaviour. He has written hundreds of informative pet-related articles for newspapers, magazines, radio, and the popular Ask the Pet Expert Blog. Brandon is highly skilled in pet problem solving, and enjoys teaching others about smart and responsible pet ownership. To learn more, visit www.CanadianPetConnection.ca.