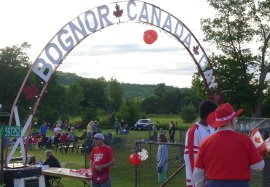 The list of 2020 events that have been cancelled due to the COVID-19 pandemic continues to grow, with the Bognor Canada Day celebrations being the latest cancellation.
"As one of the spokesmen of Bognor Canada Day Committee we unfortunately are in the position that we have to cancel Bognor Canada Day celebrations 2020 due to the current health restrictions," Bognor Canada Day Committee member Gary Shute told The Independent. "It is with great concern and disappointment that our committee has made this decision as we have been celebrating Canada Day in Bognor for the best part of 40 years."
Bognor's Canada Day celebrations draw large crowds to the Bognor Park each year and feature live music along with games for all ages and competitions including some old fashioned log sawing, and of course the traditional fireworks display. The event is organized by volunteers and supported by a number of local sponsors.
Shute expressed thanks to the many sponsors that have supported the annual event over the years.
"We are very appreciative of the support all these years from the municipality of Meaford and approximately 50 local businesses in the vicinity surrounding Bognor which makes this a much sought-out, go-to event," offered Shute.